COVID-19 doesn't discriminate
#HealthNotHate is trying to get Canadians to listen to facts and stop racism from making the crisis even worse.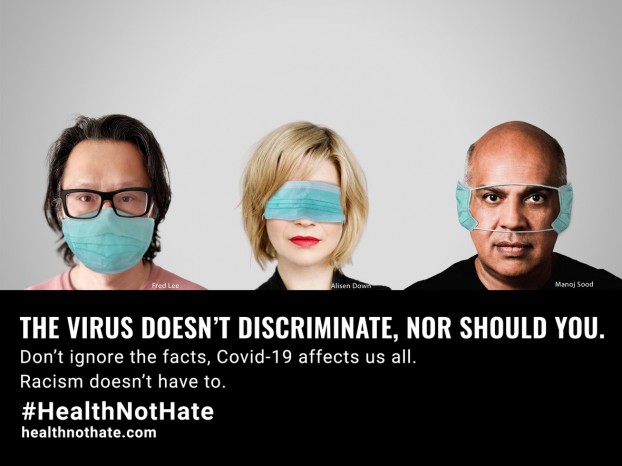 It seems that some Canadians have let racism take hold in their minds over facts during the COVID-19 pandemic.
A survey of 1250 Canadians, including 250 Chinese Canadians, conducted by Dig Insights in May showed that the pandemic may have brought the worst in some people to the surface. One in five Chinese Canadians surveyed said they had experienced a racist incident they felt was related to the pandemic, such as being targeted with insults or being questioned by pedestrians, store staff and passengers on public transit.
The results from the rest of population seem to line up with these incidents. Nearly one-quarter of non-Chinese Canadians agreed with at least one prejudiced statement included in the survey, with the most common two being that Chinese Canadians are more likely to carry COVID-19 than other people in Canada, and that eating in Chinese restaurants is less safe than others due to COVID-19 (both at 14% of respondents).
It is sad that some Canadians still need to be told that COVID-19 affects everyone equally, but the "#HealthNotHate" campaign has taken up the fight.
The campaign creative shows people in the recognizable "see no evil, hear no evil, speak no evil" pose, with masks covering up their senses instead of their hands, encouraging people to not be passive when it comes to the spreading of racism.
The message is that COVID-19 is a public health issue, not a race issue – but prejudiced attitudes are turning it into one, which is a harmful way to approach a situation that requires Canadians to come together and take collective action to keep each other safe.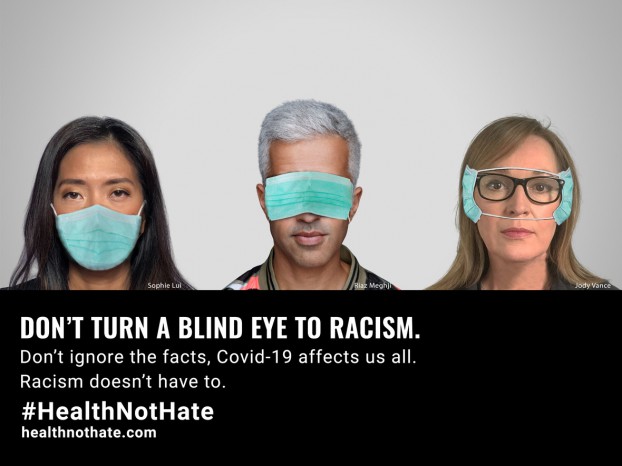 The campaign was produced in four weeks through pro-bono efforts, and appears in donated out-of-home, print and digital media. Dozens of recognizable people appear in the campaign, including Canadian actors like Russell Wong, Ludi Lin, Osric Chau and Louis Ferreira, as well as media personalities, sports anchors, TV hosts and influencers.
The campaign was produced through a joint effort of companies working in Canada's marketing, media, and film and television industries, including Hamazaki Wong Marketing Group, Megafone Media, Orange Studio, Werewolves of London and the Multicultural Marketing Alliance of Canada.
The campaign has been running since May, which is Asian Heritage Month in Canada, but the group is looking to continue to add more partners to help extend it and its mission. Ascend Canada, a non-profit group meant to help Asian professionals advance in their careers, signed on to support the campaign last week.