Promoting a ski resort like a music festival
Origin created posters and VIP passes to help visitors to Jay Peak know what attractions it has in its lineup.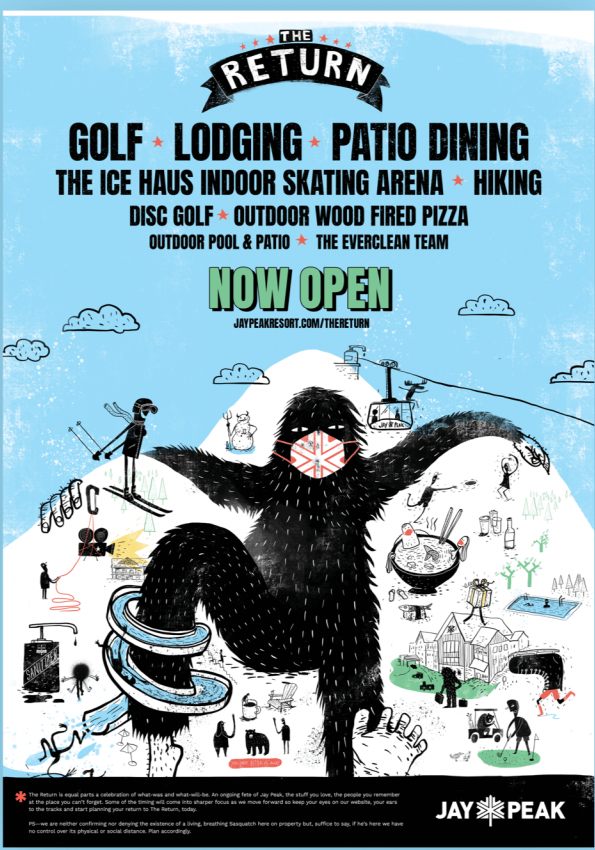 It's a tough time to be a tourist destination right now. Having been closed for several months earlier in the year due to the pandemic, some people just assume they aren't open.
Jay Peak is a ski resort in Vermont that had to close for the tail-end of its peak season, but as it reopened, it not only had to inform would-be visitors of the summer attractions it offers, like golf and swimming, but that it was in fact reopening amidst a pandemic in a socially-distanced way.
Origin – an agency with offices in Whistler, Montreal and Vermont that specializes in outdoor sports, destinations and recreation – decided to address this with "The Return," taking an uncertain schedule of activities and amenities, and organizing them as a single, blockbuster event.
Turning a wide, diverse group of entertainment options into a single, big attraction? Sounds like yet another category of events that were largely cancelled this summer.
Working with Montreal-based designer Laurent Pinabel – who Origin has tapped several times for its work with Jay Peak over the years – the agency created a poster that looks like it's promoting a music festival instead of a ski resort. Golfing, dining and an indoor ice rink get top billing over an illustrated Sasquatch lounging on the mountain, surrounded by all that Jay Peak has to offer.
The aesthetics of the poster have been adapted to things like guidebooks, social media posts and festival-style VIP badges. Jay Peak also embraced music-inspired language throughout the campaign, utilizing puns based on song titles and promoting different attractions like they were introducing a band about to hit the stage. The design toolkit was also created to be highly flexible, allowing Jay Peak to deploy and adapt assets as public health guidelines allow more activities to become available as the summer season goes on.