Kobo starts a new chapter with perfume
A scent based on a new book was thought to be an April Fool's gag, but the ebook company is giving it away for real.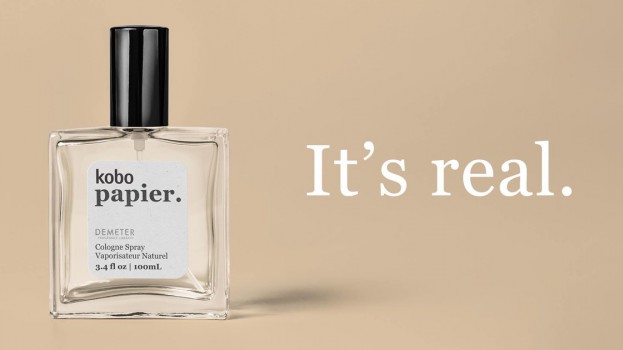 On April Fool's Day, people tend to be extra on guard when it comes to anything a brand announces, so they could be forgiven for thinking something smelled a bit funny.
One of the key appeals to reading a physical book is the smell – particularly when opening a new one. Kobo set out to bottle that sensation with Kobo Papier, a limited-edition fragrance "that'll have you smelling like a first edition," according to a social campaign the e-reader company created to generate buzz around the launch.
The problem was that the campaign began last week, meaning most consumers assumed it was a joke. But luckily for the dozens of people who commented that they wished the product was real – or mystery novel fans who appreciate a good twist – Kobo began the next phase of the campaign Tuesday, letting them know that the fragrance has always been real.
It created the scent in partnership with Demeter Fragrance Library, a company that specializes in fragrances based on "everyday" scents. In a contest, bookworms have a chance to win the perfume, along with an ereader and gift cards, by interacting with Kobo on Instagram.
While giving Papier away for real was always part of the plan, one thing did change: the strong interest in the scent has the company considering a potential retail launch in the future.