Can a banana conduct an orchestra?
Tux helps Equifruit stand out in the produce aisle by showing off the impacts of its Fairtrade certification.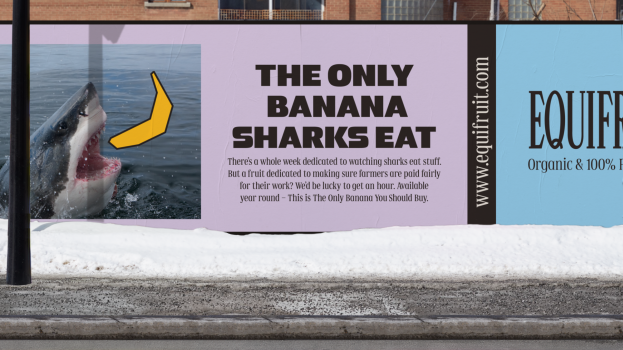 In competitive spaces, it can be hard to build a brand that stands out and wins retail shelf space, let alone one that breaks through enough to become iconic.
Quebec Fairtrade-certified banana importer Equifruit had firsthand experience grappling with that issue, and so it tasked creative agency Tux with building a unique brand that would appeal to a new generation of consumers.
The goal, at first, might seem simple: to communicate that Equifruit's products are "the only banana you should buy." But few consumers grasp the full impact of Fairtrade products and what, exactly, the label means.
In addition to that insight, Tux also gleaned that Equifruit's competitors were missing out on a large potential market in millennials and Gen Z. A key insight that guided the rebrand was that such consumers are "mindful(ish)" – often espousing socially and environmentally progressive beliefs, but with purchasing habits that don't always follow through on those positions.
"There is so much paradox in today's youth culture," says Stacy Gagnidze, senior creative strategist with the agency. "Instead of seeing these contradictions as something shameful, we chose to adopt a similar attitude. Equifruit lives at the intersection of doing good and having fun."
In that spirit, Tux coupled seemingly disparate elements together to create a new, edgier brand for the banana importer. It blends a collage-like artistic style with a clean editorial-style logo, setting both against a colourful, pastel backdrop. In creative, the benefits of Fairtrade produce are connected to situations that were purposefully chosen because they felt dramatic, like the fact that, if a Fairtrade banana can prevent workers from being exposed to harmful pesticides, it could conduct an orchestra.
The bold, attention-grabbing style is capped off with a jagged banana logo intended to mirror other iconic emblems. It is deliberately designed to easily be superimposed over memes and other images or moments of cultural significance to promote the brand in a modern context, especially on social media where the "mindful(ish) consumers" live.
"The banana industry has a dark history of colonization, slavery and exploitation. Equifruit has taken an incredibly bold stand by creating a business model that gives power back to farmers," says Gagnidze. "As a creative team, we refused to let this brave mission be ignored. We were genuinely obsessed with putting Equifruit on the map."