A big idea in a tiny home
Wunderman Thompson and Tiptap draw attention and donations to a project that aims to provide new solutions to homelessness.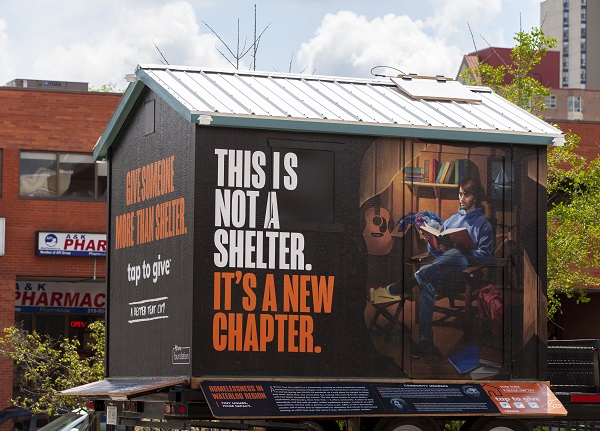 We've all heard the phrase "build a better mousetrap," but what about a better tent city?
That's the idea behind a new campaign by Wunderman Thompson for Tiptap, a technology company that enables contactless payment for donations, in support of A Better Tent City, a Kitchener-area community of approximately 50 residents living in tents and small cabins set up as a way to explore alternatives to the homeless shelter system through funding small homes in otherwise unused spaces.
Initiatives like A Better Tent City have been the subject of controversy, with the issue brought up to Kitchener City Council following complaints from residents, kicking off an effort to force it to move to another nearby township. Similar controversies have arisen across Canada as unhoused people have taken to setting up tents and other shelters in public spaces, especially those that have seen reduced use due to the pandemic. In Toronto, activists clashed with police that had been sent to break up an encampment that had been set up at the city's Lamport Stadium, while a carpenter who had been building wooden shelters for people in the winter was served with an injunction from the city.
Opponents of these kinds of encampments have claimed they are a safety issue, both for the people living there and those living in the surrounding neighbourhoods. However, activists and those living in the encampments have said residents are suffering from NIMBY-ism and merely don't want to see the hardships of people in their own communities. They've further expressed to the cities trying to take down these encampments that they wouldn't be necessary if they offered supports to get people out of homelessness, improved the shelter system or provided other meaningful solutions.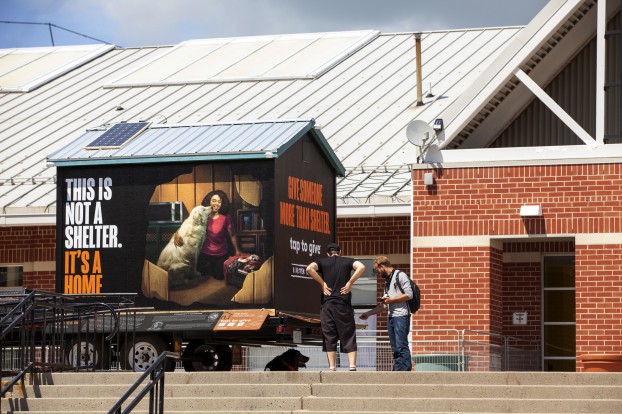 This new campaign aims to show what one of those solutions might look like. The out-of-home tiny home is meant to be a moving billboard, making stops at high-traffic public events and community hubs in the Kitchener area until the end of August. The imagery on the moving building is meant to create optical illusions the gives people an idea of what it might look like inside and the benefits it provides to a person living there. It also features educational material based on stories and photos of A Better Tent City residents taken by Leah den bok, a photographer whose work has focused on people experiencing homelessness.
"It was important that we didn't reinforce stereotypes associated with homelessness." says Ari Elkouby, ECD at Wunderman Thompson Canada. "We wanted to depict the benefit that comes from people's donations and focus on the positivity associated with the funds generated."
It also features Tiptap's contactless donation technology, allowing people to donate to A Better Tent City's efforts.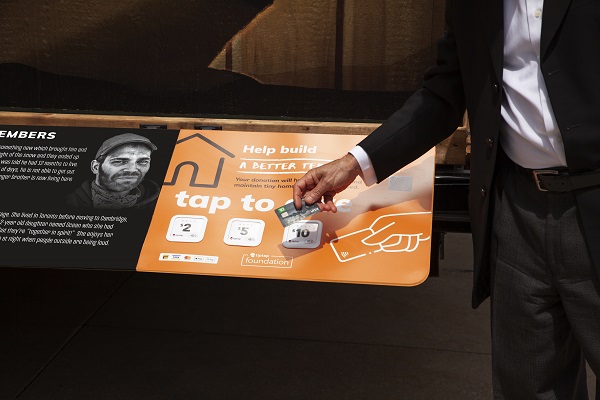 "Communities like 'A Better Tent City' are a springboard to a better life," says Mark Jordan, managing director at Tiptap foundation. "Our role is to fuel those on the frontlines who are already making a difference. The team at A Better Tent City are making a real impact in the lives of the residents who choose to call that community their home."