John St. celebrates its 20th year in a virtual world
With pandemic restrictions still in effect, the agency got everyone together by having its office recreated in Minecraft.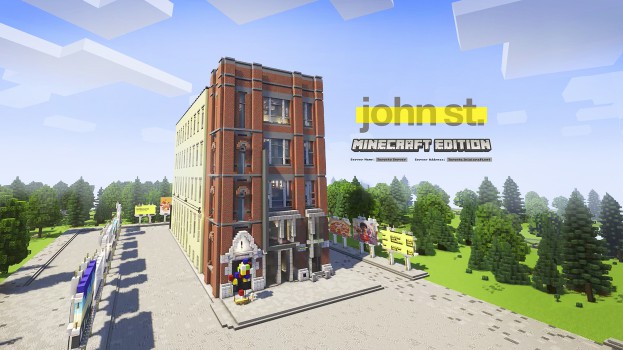 When the people at Toronto creative agency John St. realized they weren't going to be able to host a 20th anniversary party in person thanks to Ontario's pandemic restrictions, they got crafty.
Minecrafty, to be more specific.
The agency enlisted the help of Toronto gamer and YouTube content creator Gamefruitpulp to help recreate its downtown office in painstaking detail in the world-building game Minecraft.
Gamefruitpulp has been tirelessly recreating the city on a 1:1 scale within the game, and now 172 John St. joins landmarks such as the Fairmont Royal York Hotel and the Flatiron Building on a dedicated server.
"I've spent a lot of time recreating iconic Toronto buildings over the past few years, but this was my very first advertising agency," says Gamefruitpulp. "It's the perfect addition to the online version of Toronto that I've spent so many years completing."
On July 23, John St. staff were invited to attend a virtual party in the recreated office, where they could participate in quests, find hidden Easter eggs based on inside jokes and even hang out with a virtual version of the beloved office dog, Doug. They then could attend a virtual rooftop party complete with digital dancing, fireworks and agency alumni.
"We had to find a way to be together when we couldn't do it in-person," said Cher Campbell, CCO at John St. "A 20th anniversary is a big deal, but we as John St.-ers have never taken ourselves too seriously."
The building will remain in Gamefruitpulp's Toronto cityscape and the exterior is open to view for anyone with a Minecraft Java account. It can be accessed with the below details.
Server Name: Toronto Server
Server Address: Toronto.Inizicraft.net
Credits:
Agency: john st.
Chief Creative Officer: Cher Campbell
Creative Directors: Jordan Cohen, Cam Boyd
Associate Creative Director, Copywriter: Marc Levesque
Associate Creative Director, Art Director: Dan Cantelon
Art Director: Shirley Xu Wang
Copywriter: Marly Dichter
Producers: Aimee DeParolis, Cas Binnington, Matthew DeWaal
Jr. Gaming Consultant/Volunteer: Harris Boyd (9 years old)
Game
Production/Minecraft Build: Gamefruitpulp
Teaser Video
Editor: Nicole Sison
Feature Video
Editor: Peter Guzda
Post Production: Alter Ego
Executive Producer: Hilda Pereira
Producer: Andrew Tavares
Colourist: Patrick Samaniego