HomeEquity serves up rations through DoorDash
Zulu Alpha Kilo uses a modern meal platform to give a look into the past of Canada's veterans.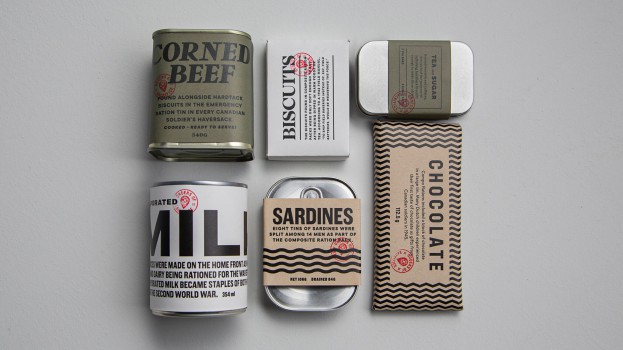 HomeEquity Bank is a offering a solemn reminder of the sacrifices Canada's veterans have made by adding something new to some DoorDash menus: a soldier's ration kit from World War II.
On Wednesday, the day before Remembrance Day, Canadians can order field ration kits through the meal delivery service. Created with input from a historian, the kits are meant to be an accurate representation of the kits Canadian soliders would have carried, containing hardtack biscuits, chocolate, tea bags, sardines, evaporated canned milk, and tinned corn beef
Within the kits is a QR code that direct to a "guided unboxing" video (seen below) that features descriptions of each item inside the box, alongside anecdotes from veterans Marvin Gord, age 100, and Jack Boeki, age 97, who describe what it was like to rely on the kits during the Second World War.
The kits will be available in neighbourhoods around Toronto, with proceeds from sales going to the Legion National Foundation.
Zulu Alpha Kilo led creative and strategy for the "#OrdersofSacrifice" campaign, which is meant to create a more tangible connection between Canadians and the sacrifices made during past wars, something that is increasingly being lost as veterans age.
"History remembers their epic battles, but with this year's campaign, we wanted people to also remember the daily sacrifices our veterans made for us," said Brian Murray, ECD at Zulu Alpha Kilo.
This is the latest way that Zulu Alpha Kilo has made HomeEquity Bank's support of the Royal Canadian Legion and Canadian veterans resonate with audiences on digital platforms. In 2019, the "Pause To Remember" campaign enlisted influencers and streamers to encourage a virtual "ceasefire" within combat games on Remembrance Day, with the hope that their younger audiences would be motivated to learn more about the history of Canada's armed forces. Last year, they had veterans form their own e-sports team, who shared their experiences with other teams they played against online.
Like those initiatives, this year's campaign is also supporting the Legion's digital poppy, sponsored by HomeEquity and launched in 2018 as a way for Canadians to show their support for veterans online, instead of just through a poppy pinned to a jacket. For more mainstream audiences, there is a new TV spot featuring Private (Ret'd) Ardwell "Art" Eyres, who this year is dedicating his Digital Poppy to his friend and mentor Sergeant Major John Copeland.
OMD is providing support on media, with Weber Shandwick on PR.
Credits
Client: HomeEquity Bank
Agency: Zulu Alpha Kilo
Chief Creative Officer: Zak Mroueh
Executive Creative Director: Brian Murray
Art Directors: Vic Bath, Michael Romaniuk
Copywriters: Dan Cummings, Marco Buchar
Design Director: Dejan Djuric
Designer: Jackman Chiu
Agency Producers: Mitch Cappe, Tim Lynch
Account Team: David Tremblay, Samantha Tang, Rob Feightner
Clients: Yvonne Ziomecki, Vivianne Gauci, Erin Wilson, Niary Toodakian, Sonia Gill
Media Agencies: OMD
Media Team: Dwayne Mataseje (OMD), Mitchell Cornelisse (OMD), Justin Lee (iQuanti)
PR Agency: Weber Shandwick
PR Team: Jacklyn Power, Jennifer Wasley
Production House: Zulubot
Directors: Vic Bath, Dan Cummings
Production House Producers: Mitch Cappe, Sarah Dayus
Director of Photography: Kyle Chappell
Editing Company: Zulubot
Editors: Max Lawlor, Mitch Reed
Online: Zulubot
Colour Grading: Felipe Chaparro
Audio Engineer: Dino Cuzzolino
Photographer: Noah Mroueh