Nova Scotia claims pole position among holiday trees
M5 creates a spot to bring a local tradition to life and show pride in the province's agriculture exports.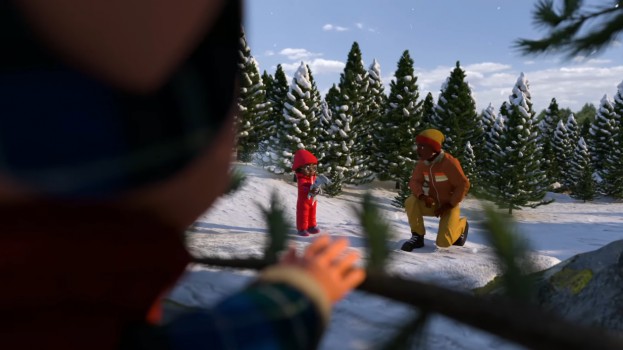 The Christmas Tree Council of Nova Scotia (CTCNS) is putting a fresh spin on a classic tradition by branding one of the province's most recognizable exports.
The Nova Scotia balsam fir has long been a holiday mainstay, including in a 50-year tradition that sees the province of Nova Scotia send the city of Boston a Christmas tree in thanks for the city's assistance following the Halifax Explosion.
But Nova Scotia trees are exported to many markets during the holiday season, the result of branding and marketing work that began in 2019. This year, that work has culminated in a new spot that tells a fictional story of how the balsam fir came to Nova Scotia – and the elf deployed by the North Pole to maintain a forest of balsam firs there.
The video is part of a larger campaign that centers on the blue button as a symbol for Nova Scotia balsam fir trees.
"We're excited for this campaign because it recognizes that Nova Scotia trees are unlike any other," said Angus Bonnyman, executive director of the CTCNS. "The heartwarming story and the button branding can live on for generations."
The spot was developed by M5 Marketing Communications in partnership with Accomplice Content Supply Co.
Credits:
Agency: m5 Marketing Communications
Creative Director: Bruce Whelan
Associate Creative Director: Adam Sterling
Art Director: Erin Tilley
Account Director: Tyler MacLeod
Animation Production: Accomplice Content Supply Co.
Post Producer: Bob Mills
Director: Charles Wahl
2D & 3D Animatic: Charline Parisot
2D Concept Art: Charline Parisot
3D Concept Art: Andrew Pierce
Character Design: Charline Parisot
3D Character Modelling: Charline Parisot
3D Texturing: Andrew Pierce
3D Environment Design: Andrew Pierce
Character Rigging: Charline Parisot & Martin Gunnarsson
3D Character Animation: Charline Parisot
Rendering: Andrew Pierce
Sound Design & Audio Mix: Scott Mackey
Music Score: Nick Grimshaw