How to Give-A-Care
Flowers won't rid her of a dry mouth after chemo. A new video shows what will.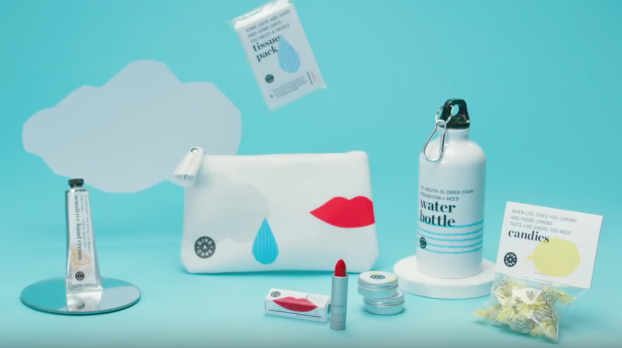 Nausea and hair loss are the best-known of cancer treatment's painful side effects, but there are others that cancer sufferers could use a hand with.
Stephanie, diagnosed with breast cancer at the ripe young age of 28, remembers tasting something weird and metallic every time the nurse would insert a port during chemo. Her trick was to mask the unpleasant tang with, well, something tangy. "I make sure to be sucking on a lemon candy so I don't taste it." Another woman describes the dry skin and lips that came from treatment and anxiety. For her, moisture was key. "I stashed lip balm in the pockets of every jacket, pair of pants, and purse that I used."
Some have to deal with low libido as another side effect of the taxing treatment, but there's no evidence that long-stemmed roses are going to ignite her loins. Sometimes lube is required to get the, erm, juices going. With that said, don't you want to be the helpful friend who gives her the gift of a healthy sex life?
Well, now you can with Rethink Breast Cancer's Give-A-Care product line, and in this new video, the organization shows you exactly how.
The merchandise launched late last year, with the help of Lg2, giving friends and family the opportunity to give something a little more useful than well-intentioned flowers and chocolate. The video was first shown this past weekend at the Interior Design Show in Toronto at a booth Rethink set up to educate attendees and showcase the line to the design crowd.
Credits
Client: Rethink Breast Cancer
Agency: Lg2
Director: Nathalie Cusson