Celebrating the good in drivers
Slow and steady driving wins Belairdirect rewards.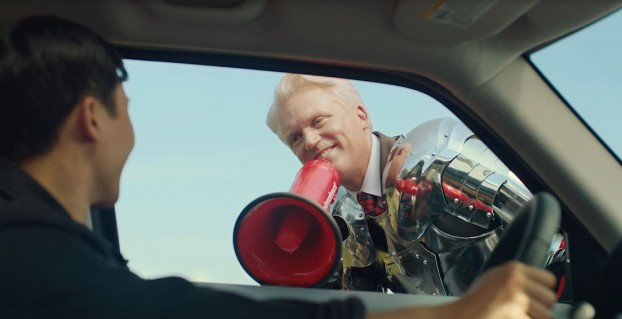 If you're a good driver 100% of the time, then you deserve to pay 25% less in car insurance. So says the Belairdirect knight mascot in a new national campaign that rewards drivers for breaking softly and accelerating slowly, among other things.
The spot, which launches today and will run through to Oct. 22, was created with the help of Sid Lee (with media placement by PHD Montreal), following the brand's research into Canadians' driving habits. In a survey, the company and Leger Research asked participants what "bad" driving habits they'd be willing to give up in exchange for rewards.
Apparently, 95% of drivers think they're actually pretty good at keeping it safe and cool on the road. But ironically, 93% have admitted to doing at least one bad thing behind the wheel, according to the research. What constitutes as bad? Well, applying makeup and "being romantic or intimate" for starters – and then there's also the more obvious distracted driving activities like eating, drinking and using a phone.
And of the things Canadians are willing to give up in exchange for discounts on their car insurance premiums, sending texts, checking their phone and making calls top the list. Naturally, many were less enthusiastic to stop changing the radio station dials, talk to someone in the passenger seat, and quenching their thirst while driving.
Credits:
Brand: belairdirect
Agencies: Sid Lee, Mile Inn, Married to Giants, Red Lab, Wingman, Audio Z, PHD Montreal