Can a noodle be too desirable?
If it's free of cholesterol-raising yolk and easier to cook than to date, then yes.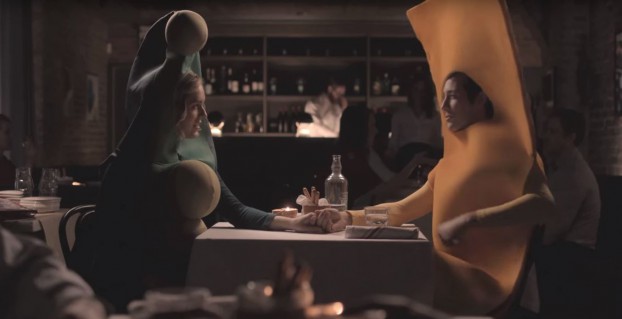 Can a noodle be a stud that's "easy" and pretty much "go with everything"?
It's difficult to imagine a noodle breaking bacon, pea, and cheese hearts, but not if they're yolk-free and have agency Elemental producing ads that show how they're easier to cook than to go on a date with.
That's the message behind this odd social campaign that's aimed at getting 18-to030-year-olds to try the low-fat, low-cholesterol and sodium-free No Yolks Noodles. A bizarre, but kind of entertaining, commercial for the brand features a life-size man noodle in a love triangle for equally large female ingredients below.
Apparently the brand has been experiencing gains with the 40-plus crowd (no doubt as a result of its health benefits), but now it's looking to reach millennials with messaging around a quick, easy and delicious meal option for the younger, more time-starved generation.
"Many college students and young professionals don't have the time to cook, but still want a great-tasting meal," said Alistair Senn, senior brand manager at No Yolks. "Our message is that No Yolks noodles are simple and fail-proof to make, go with just about any ingredient and they happen to be healthy to boot."
The campaign will run until Dec. 8, with social posts and video on YouTube, Facebook, Twitter and Instagram, using #BringHomeNoYolks. Not only does the campaign create awareness of the brand, it also introduces two new products: One Pot Cheesy Taco Noodles and Asian Fried Noodles.
What's more, the brand is playing on the "noodle stud" theme with a contest in stores that asks shoppers to submit their best "pick-up lines" (our favourite suggestion from the brand is the "They say pickup lines are a numbers game. So can I get yours?"), with a panel of execs from the brand choosing their own three favourites, which will be rewarded with a free supply of No Yolks Noodles.