Pepperoni patio weather
John St. and Boston Pizza teamed up to showcase the social size of pizza.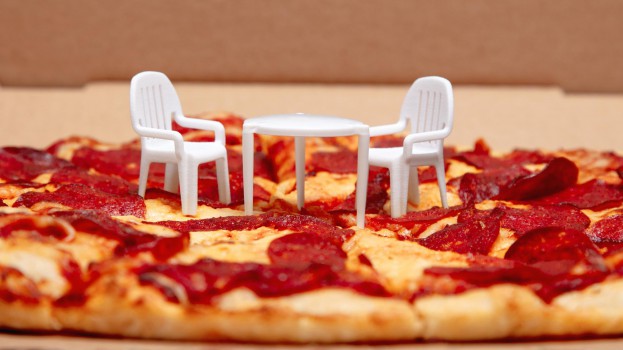 It's cheesy. It's gooey. It's stretchy and saucy. It's surrounded by shallow little pools of hot grease. And you wouldn't have it any other way.
There's nothing that says "summer" quite like a day on the patio with a tall glass of beer and a hot pie. No, not the strawberry rhubarb kind (although that sounds pretty good too). The kind covered in cheese and pepperoni. The kind that comes in a weirdly warm box. With one of those weird little plastic things in the middle.
We don't know what exactly to call those little plastic things, so they are henceforth known exclusively as "plastic things." The plastic things serve the important purpose of keeping the pizzas together. And, awesomely, they look like little tables!
No, you're not the only one who noticed. In fact, Boston Pizza noticed too. In the restaurant's latest campaign promoting patio season, it's sending out a limited number of (food-safe) plastic chairs to go with the little "tables" in its delivery boxes, to remind people that pizza is a food best enjoyed socially. On a patio. With a beer.
Excuse us, there's a patio calling our name.
Credits
Advertising agency: John St., Canada
Chief creative officer: Angus Tucker
Creative director: Paul Little
Copywriter: Robbie Percy
Art director: Caroline Friesen
Executive director: Cas Binnington
Head of integrated production: Aimee DeParolis
Producer: Erin Feldman
Team lead: Ryan O'Hagan
Account director: Caitlin Bourada
Account supervisor: Emily Farncomb
Photography Pproduction: Gas Company
3D printing: 3D Phaktory