When in doubt, make your own ad
Quality creative, or high-concept trolling?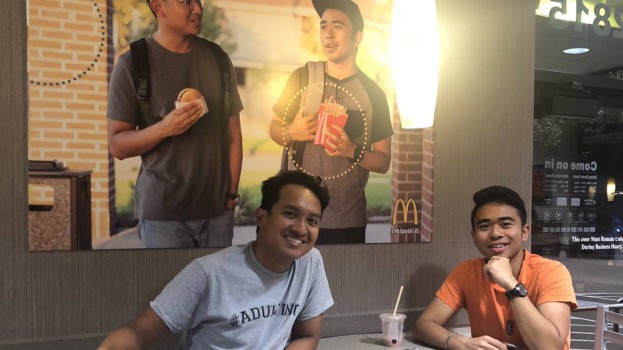 We're pro-agency here at Stimulant, but sometimes, life comes along and shows that the best creativity just comes from the minds of the bored and hungry.
We suspect that 21-year-old U.S. student Jevh Maravilla may secretly be a creative genius because of the fake branded poster he and his friend created for a McDonald's in Houston. The decision to embark on such an elaborate, yet net-harmless prank, was spawned mostly from an absent desire to fill a blank wall with another poster, as well as a desire for more Asian representation (Maravilla noted in a later video that all of the figures in the restaurant's posters were white).
In his video, Maravilla – whose subscriber count remains a modest 1,900, although the video of this stunt has topped 600,000 views – shows the dedication he and his friend went through to hang the poster, from staging the photograph to designing the poster and donning a disguise to hang it. The total budget came up to under $100, with most of that being for the print (just under $7 went to the thrifted McDonald's uniform, which included a walkie-talkie. This former McEmployee can confirm that sadly, walkie-talkies are not a standard part of the McExperience).
For all the effort that went into the placement, you might think there was a great deal of risk. But at least 51 days later, Maravilla said the poster was still up.
The perfectly absurd trolling has (rightfully) gone viral, and we love Maravilla's overly serious video describing how they did it. We'd also like to add that whatever Maravilla's major is at University of Houston, agencies might want to take a look at this guy – he's got the design chops, multicultural marketing skills and even some planning experience under his belt.