Tension grows, the whistle blows, the pup goes down the ice
Tims and Zulu pair the biggest and smallest hockey players on two (and four) legs.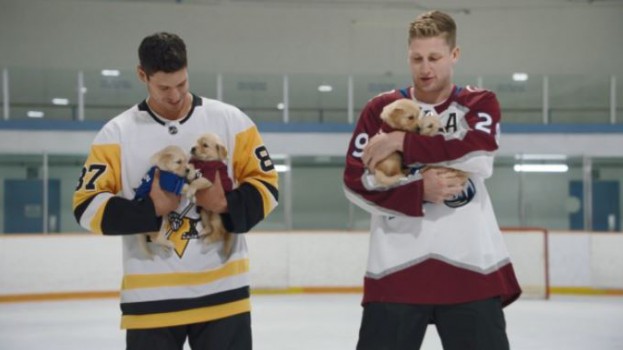 Plenty of Canadian millennials grew up playing hockey, or having friends and family who played hockey. But what used to be known as the Good Ol' Hockey Game for all ages has since had a bit of a shadow cast on it.
For one thing, hockey can be prohibitively expensive (this piece by Grandstand Central breaks down some of the biggest costs of the game for young people and highlights the minimal representation of lower income families in the sport). And, according to a study cited by Tim Hortons, 67% of parents believe hockey is too serious and competitive.
But that still doesn't stop thousands of kids every year from entering the sport. And yes, there may come an age when it becomes a bit more serious, but this new spot by Tim Hortons proves that there are still some young hockey players who have a sense of whimsy and imagination.
In a new TV and digital spot by Zulu Alpha Kilo, Pittsburgh Penguins captain Sidney Crosby and Colorado Avalanche assistant captain Nate MacKinnon return once again to promote the various Tims hockey programs, most notably the Timbits Minor Sports Program. They did so by asking those very players what they think would make the game better. Among their suggestions: pinatas, farting goalie pads and, of course, puppies!
Crosby and MacKinnon, the national heroes that they are, delivered on all of those. The highlight, of course, was the puppies.
(Hot take: There are actually many reasons puppies shouldn't be on the ice. For one thing, they can barely stand up, let along competently get the puck out of the neutral zone, and they relieve themselves at completely inappropriate times. Plus, the NHL already has plenty of puppies to deal with, including the Tkachuk brothers and Ilya Mikheyev).
Nevertheless, the core message of the ad? Let's keep hockey fun. This Stim writer couldn't agree more, and eagerly awaits the day the NHL busts out pinatas between periods at professional games.
Credits
Brand: Tim Hortons
Agency: Zulu Alpha Kilo