Tim Hortons delivers more help to frontline workers
The QSR has not let up on its efforts to show appreciation for the people giving back to the communities it serves.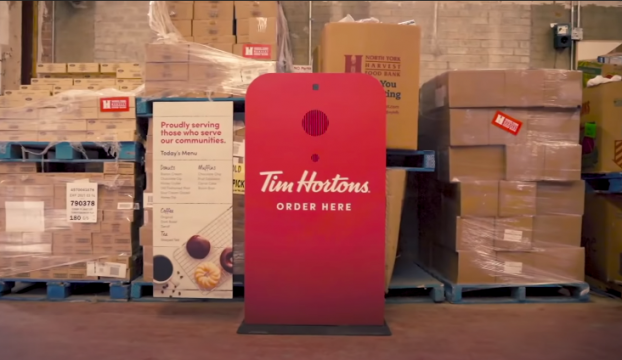 Many of us are still adjusting to new ways of working these days, so just imagine how hard it must still be for frontline workers, especially since their workloads have not let up.
To continue showing appreciation (and a well-deserved break), replicas of Tim Hortons drive-thru speakers were placed in the headquarters of a commercial cleaning company and a food bank's warehouse. In addition to giving workers a chance to get their coffee during what is surely a very busy time, the voice at the other end of the speaker described exactly how much Canadians appreciate them while their order was delivered. Tim Hortons worked with Diamond Marketing Group on the activation.
While many brands have given back to communities during the pandemic, Tim Hortons continues to make an effort to go above and beyond, fitting with its history as the community gathering place in towns across Canada. Since March, Tim Hortons and local franchises have given out more than 1.6 million free cups of coffee and baked goods to essential workers.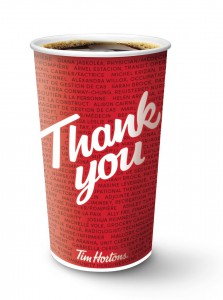 In September, it is giving an extra spotlight to those workers through "Hero Cups," putting the names of people like healthcare professionals, retail staff, public transit drivers, social workers and funeral home staff on its cups. There are over 100 different designs of the cup, each one featuring the names and occupations of nearly 100 different people nominated by friends, family and members of their community.
Tims is also sharing stories of how each person has contributed in the fight against COVID-19. It's amplifying those stories through Twitter, where it is changing its display name on the social platform to that of the person it's spotlighting on a given day. The "heroes" are also catalogued on a special microsite, where people can search for someone by name or view a random hero cup design to find these stories for themselves.
Even when the childcare centre she worked at became an emergency centre during the crisis, she decided to stay on. Read Maryse' story at https://t.co/iKmjvapBme #HeroCups pic.twitter.com/wU7ep6xAZx

— Maryse Boivin, Educator (@TimHortons) September 8, 2020
During the spring and summer, Tims also tried to make free coffee deliveries a little extra special by setting up a "drive-thru truck" for workers whose vehicles typically can't make the clearance of a typical drive-thru, such as public transit drivers and sanitation workers behind the wheel of garbage trucks.