Kraft Peanut Butter is writing a kid's book
On social, the brand's mascots have started interactively writing a story about sticking together during the holidays.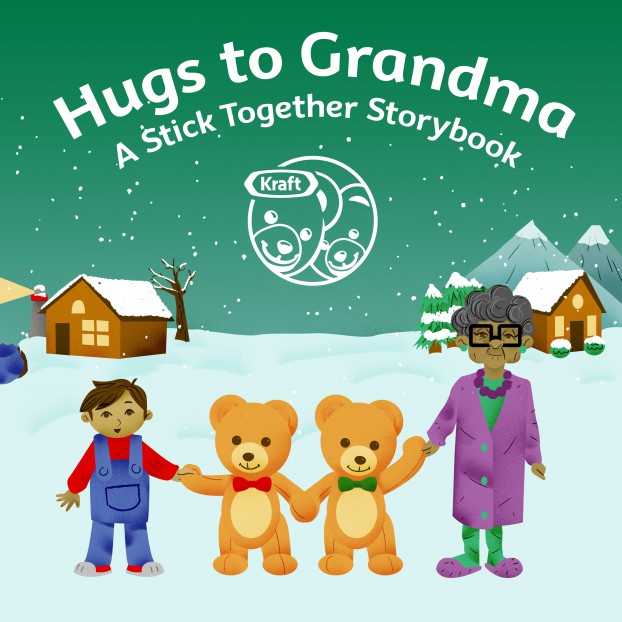 You'd be forgiven for mistaking Kraft Heinz for Harper Collins or Penguin Random House of late, as the global CPG company is putting out another book.
This time, it is creating "Hugs for Grandma," a children's book it is writing interactively online for its Kraft Peanut Butter brand – subtitled, naturally, the "Stick Together Storybook."
The storybook, created by The Kitchen with PR support from The Colony Project, follows the adventures of teddy bears mascots Crunchie and Smoothie, who are helping a young boy and his grandmother stick together over the holidays. Beginning tonight, the brand is releasing new chapters on its Instagram channel every day until Christmas, and with each drop, it is asking Canadians for help: they can offer suggestions that will shape where the story goes, and if their recommendation is used, they may appear in the next chapter.
The story is unfolding on social, but on Boxing Day, 10 physical copies of the book will also be made available through a social giveaway.
"This interactive book gives families a unique way to interact, engage, and connect with us and each other during a holiday season unlike any other," says Daniel Gotlib, associate director, brand building and innovation for Kraft Heinz Canada. He adds that the program builds on its "Stick Together for Small Business" program, taking the ethos of supporting small businesses and applying it to families who might feel disconnect this year. That program donated ad space from a scrapped campaign to help small businesses, particularly when it came to promoting takeout and delivery services.
Kraft Heinz has already tried to boost interaction through the written word. To promote its new baby food brand Heinz By Nature in-store messaging was amplified through the pages of a baby book, "A Wonderful Meal from Nature."