Children of the Street's cute characters expose virtual stranger danger
Will uses adorable avatars with sinister intent to talk about exploitation in online gaming.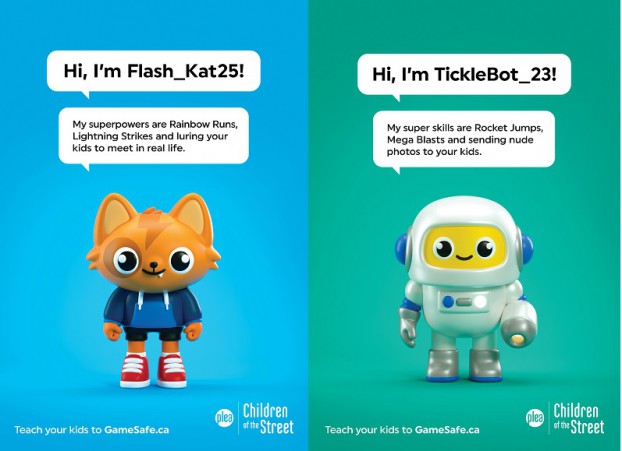 Children of the Street is deploying cutesy gaming avatars to warn of the dangers posed to kids online.
The organization – which aims to combat sexual exploitation and human trafficking of children – worked with Vancouver agency Will to create seemingly innocuous and colourful characters that would be right at home in a lot of online games. They possess the usual power-ups like lightning strikes and rocket jumps, but also more sinister skills, like "luring your kid to meet in real life."
While other PSA campaigns have called out the dangers of high-profile social media platforms like Instagram or Facebook, when it comes to gaming and in-game chat features, many parents are not as aware of the potential risk posed by predators.
"It's surprisingly easy for people with ill-intentions to hide behind cute avatars and fake profiles to gain the trust and friendship of kids through online gaming platforms," according to Jen Graham, communications and development manager at PLEA Community Social Services, which runs the Children of the Street program.
Graham says the grooming process typically begins with exploiters using things like game codes or currency to build trust, and then enticing kids onto other apps to glean more personal information or encourage them to meet in person.
The avatars are appearing in OOH, social, direct mail and video ads targeting Greater Vancouver. The eight-week campaign directs parents to the campaign landing page, where they can read about prevention tips and download support materials.
According to Cybertip, a national tip-line for reporting child exploitation operated by the Canadian Centre for Child Protection, between 2014 and 2019 it processed over 1.7 million child sexual exploitation reports. And Statistics Canada is reporting an 806% increase in online child sexual abuse related crime over the last decade.
Lisa Lebedovich: Creative Director
Luke Devlin: Associate Creative Director / Writer
Rory O'Sullivan: Associate Creative Director / Art Director
Cara Ventura: Account Director / Strategist
Andrea Schupham: Producer
Sarah Collins: Producer
Noah Kawamura: Junior Designer/ / Motion Animator
Grand Chamaco: 3D Illustrator/Motion Animator
Wave Production: Audio Production
PostPro Media: Video Production