Food Banks Canada shows its gratitude for all the help
After raising $150 million in its pandemic fundraising efforts, the non-profit is saying thanks.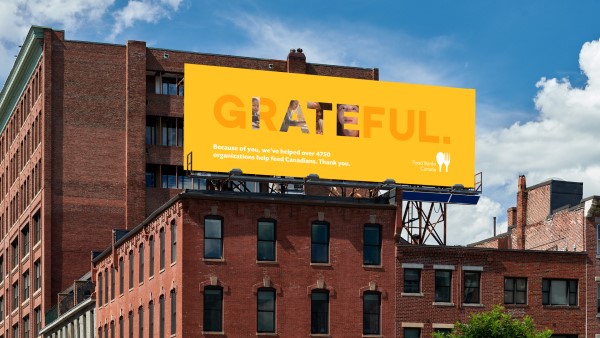 Food banks have been a big recipient of generosity since the pandemic began, and Food Banks Canada is showing how grateful it is for that generosity of Canadians with its latest campaign.
Following the organization's $150 million "I Ate" fundraising campaign, launched when lockdowns began, Food Banks Canada is rolling out creative on broadcast media donated by Corus, digital OOH donated by Outfront and digital ads across Google Ad Network and social media platforms. Skylar Media Group worked with Food Banks Canada to do the media buy.
The campaign was created by Toronto shop The Local Collective, which started as Food Bank Canada's lead agency in 2019.
According to Food Banks Canada CCO Caroline Newton, there was a near-immediate increase in food bank visits starting in March of 2020, which necessitated a response, culminating in Canadians coast to coast helping the organization reach its fundraising goal of $150 million for community relief, and serving 4,750 in-need communities.
"We have been blown away by the support, and we wanted to show our appreciation for everyone who came together to help us and our food banks network reach this milestone goal," Newton notes.
According to Matt Litzinger, president and chief creative officer for The Local Collective, taking a moment to show appreciation, to give gratitude for what Food Banks Canada has been able to accomplish felt important.
"The fact that more people than ever have been able to say 'I ate' is a powerful thing," he says.