Drug Free Kids wants to keep parents talking
FCB Montreal's new PSA gets parents to take a positive approach to conversations about drugs, instead of scolding.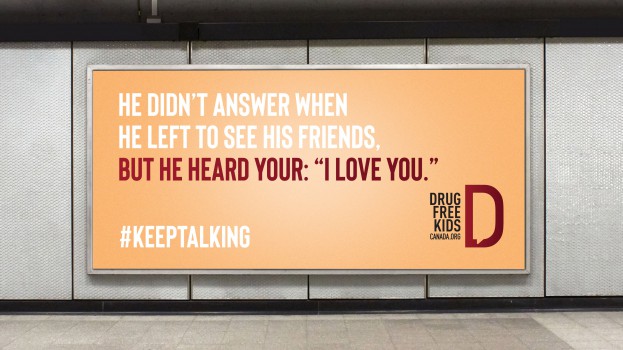 Non-profit Drug Free Kids Canada knows that the majority of teens – 63%, according to its own survey – get their information on drugs either from parents or the classroom.
That's why the organization is once again focusing on parents with its latest PSA campaign, "Keep Talking." The effort encourages those parents to educate themselves on the facts about underage use of substances such as cannabis, alcohol and nicotine, while keeping the dialogue about the use of those substances open with their kids.
Rather than show parents scolding their children for doing the wrong thing, the campaign encourages parents to remain present in their kids' lives and "maintain a positive, comforting tone," says Chantal Vallerand, executive director for Drug Free Kids Canada.
Despite the fact that 95% of parents asked by the organization say they had conversations with their child about substances that ended up having a positive influence on the child's behaviour, "reminding parents that their presence and efforts do have a significant and beneficial impact is a long-term task," she adds.
That's because it may sometimes seem like advice or information is being ignored.
"As a parent, it's completely natural to feel like you're talking in a vacuum as your kids grow up," explains Sylvain Dufresne, VP and head of creative for FCB Montreal, which worked on the campaign. But "teens absorb every word, so it really does make a critical difference."
This is not the first time Drug Free Kids Canada has messaged around the importance of parental presence in their teens' lives. Last year, it encouraged them to have a chat with their children about cannabis use in the wake of the national legalization of the substance.
The "Keep Talking" campaign is being deployed across a wide variety of channels, including OLV, social, OOH, radio and TV.
Credits:
Advertiser: Drug Free Kids Canada (Chantal Vallerand, Nicole Levac, Susan
K. Hutt)
Agency: FCB Montréal
Creative Director: Sylvain Dufresne
Creative: Emily Wilkinson, Julien Ponton, Marie-Christine Lessard
Client Services: Michael Watier, Chloé Haurie
Strategy: Maryse Sauvé
Agency Production: Anick Rozon
Production: SOMA
Director: Mathieu Renoult
Producers: Michel David / Audrey Tardif – SOMA
Photo Direction: Antoine Ryan
Art Director: Hugues Letellier
Stylist: Emmanuelle Néron
Post-Production: Rodéo
Offline Editor: Mathieu Renoult
Colourist: Benoit Côté – Rodéo
Online Editor: Mathieu Renoult
Sound Studio: La Majeure