St. Louis' solution to 'Wingsanity' messes
DonerNorth created extra-large moist towelettes to get people excited for the return to indoor dining events.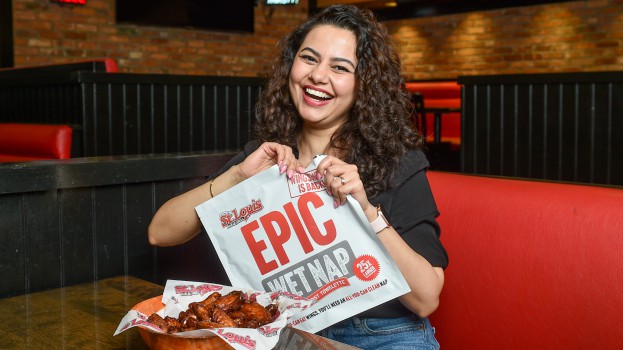 St. Louis Bar & Grill knew it had to go big to promote the 30th anniversary of its all-you-can-eat wings event, "Wingsanity." Real big.
And while all of those wings may make some people feel like they need to take an epic nap, the bar and grill has a different kind of nap in mind for some of its customers. In partnership with DonerNorth, it has created a giant moist towelette that is 25 times larger than the typical wipe that customers would receive at the end of their saucy meal. It's called the Epic Wet Nap.
"Over the years, we've come to realize that all-you-can-eat wings really do need an all-you-can-eat Wet Nap. We have so many guests who really embrace the spirit of this iconic event, leaving our restaurants covered in sauce," says Royal Nasager, VP of marketing for St. Louis Bar & Grill. "We hope this helps them return home a little cleaner."
"Consumers now expect an experience when they visit restaurants," adds Lance Martin, CCO at DonerNorth. "During the pandemic, people got used to the convenience of takeout and delivery. What better way to make people excited about eating in stores again than with a surprise at the end of their meal?"
The campaign runs alongside the restaurant's Wingsanity event, which runs through July 17 at locations in Ontario, Alberta, Nova Scotia and New Brunswick. Each week until the end of the promotion, one winner will be randomly chosen at each St. Louis location to receive an Epic Wet Nap.