Reverse psychology at its best
Lg2 was hired to convince creatives to enter Carte Blanche. It did a terrible job.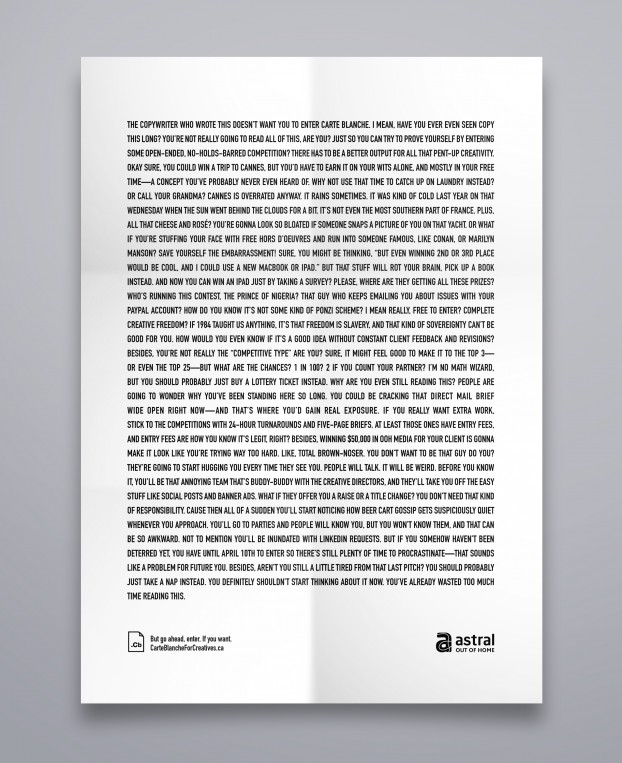 Someone at Lg2 must have sat down one day to practise stream of consciousness-style writing when they came up with the above copy (click to view). It's obvious they don't care much for the reader and their time: the ad is insultingly long, it's dripping with passive aggression, and it does everything in its power to convince people not to enter Bell Media's Carte Blanche contest.
The team was probably told to list all the perks of winning: tickets to the Cannes Lions for first place; a new Macbook or iPad for second and third; hero status that comes with being given $50,000 for a client campaign; creative fame inside offices walls and the media.
Reluctantly, they did just as asked – but not without a (not-so-hidden) agenda of trying to convince creative folk that it's not all it's cracked up to be.
Sure, you can win tickets to France, where you can stuff your face with sweet rosé and cheese while getting chummy with celebs on yachts, but then you'd have to deal with an embarrassing, bloated stomach. And who honestly cares about Cannes? It's not even the Southernmost part France, the ad bemoans.
The agency's art directors must have caught on: printing copy white-on-white, refusing to translate French to English, and presenting it upside down proves they want the creative glory and goodies for themselves.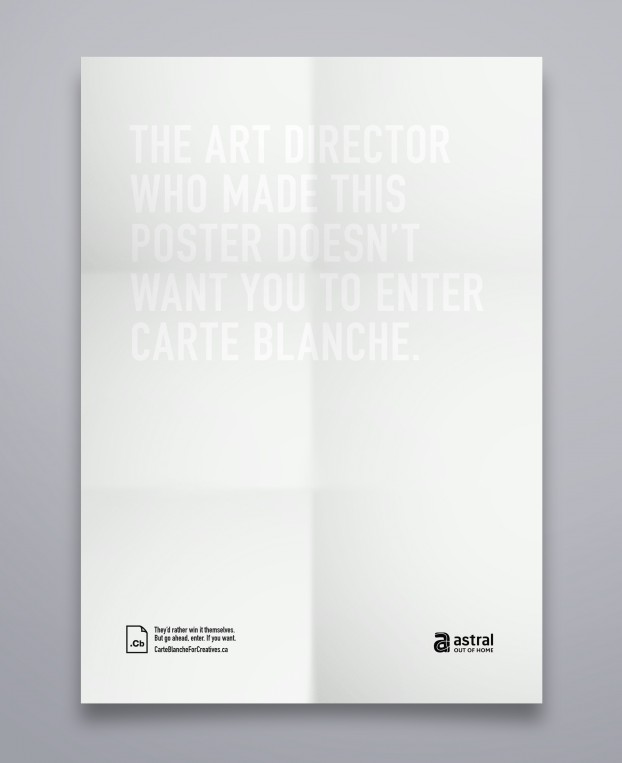 The campaign, of course, isn't really trying to convince you not to enter – it actually uses the very sophisticated strategy of reverse psychology. "We had one goal in mind when we went forward with this campaign: Get as many creatives participating as possible. Since creatives are inherently competitive, we knew that any attempt to deter them would only make them want it more," said Chris Hirsch, partner, VP and CD at Lg2.
The national campaign includes posters in agency bathroom doors, out-of-home street furniture, on Snapchat as filters with geofencing around creative shops, and online on sites like stimulant's sister pub strategy.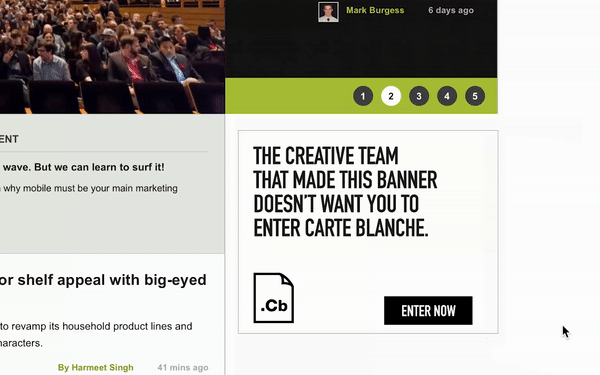 Credits:
Advertiser: Bell Media (Astral OOH division)
CDs: Chris Hirsch, Nellie Kim, Nicolas Dion, François Sauvé
Creative: Ariel Riske, Barbato Martiniello, Zachary Bautista
Account Services: Taylor Johnston, David Legendre, Catherine Demers-Rivard, Matea Tomic, Anne-Sophie Forget
Web and print production: François Mouchet, Nathalie Dupont, Frédéric Graf
Media: Media Experts (Brigite Gauthier, Lindsay Garfinkle), Bell Média