Skip this ad and a tree dies (sorta)
For every view of its ad, Busch will donate $1 to the help keep forests healthy.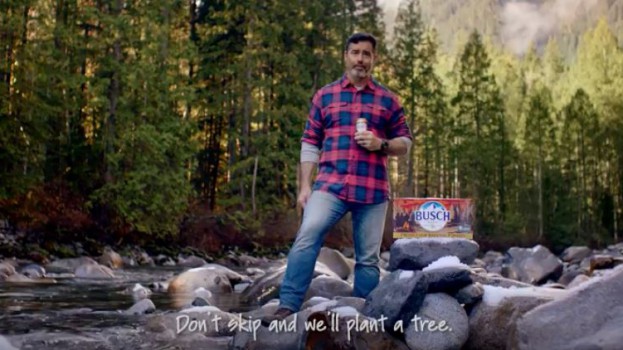 Advertisers and agencies today will try anything to keep viewers from skipping their ads.
Among them is creative shop Deutsch New York, who came up with a clever way of wagging a big environmental carrot in front of viewers of a 30-second pre-roll ad for Busch beer.
The Anheuser-Busch-owned beer brand has been holding people's attention by promising to plant one tree for every view of its pre-roll ad, as part of a larger partnership with the National Forest Foundation in the U.S. to help protect the country's natural flora (and fauna).
Featuring a plaid-wearing, bearded man standing in a stream surrounded by the beautiful wilderness (and never far from a case of Busch), the spot mentions the various tree species that stand to profit from the initiative: Douglas firs, ponderosa pines – anything but those weird trees with butts on them (essentially).
In addition to actually planting trees, the brand is also donating $1 to the cause from each case of specially marked "outdoors packs" sold between Sept. 3 and Dec. 31, 2018.
Credits
Agency: Deutsch, New York,
Chief creative officer: Dan Kelleher
Executive creative director: Jeff Vinick
Creative directors: Heather English, Marques Gartrell
Copywriter: Breyden Sheldon
Art director: Kelsey Heard
Director of integrated production: Joe Calabrese
Producer: John Hatheway
Assistant producer: Halley Mangano
Director of integrated business affairs: Maria Taris
Group director, integrated business affairs: Stacy Schwartz
Sr. business affairs manager: Dawn Doumeng
Project manager: Ashley Heisner
Account director: Andrew Arnot
Account supervisor: Madalyn McLane
Production company: Steelhead
Director: Joe Pernice
Executive producer: Jeff Morgan
DoP: Tom Petersen
Editorial company: Steelhead
Editor: Cohen Anderson
Assistant editor: Matt Mullen
Post-producer: Samantha Addy
Executive producer: Jeff Morgan
Telecine: Steelhead
Colorist: Juan Guzman
Original music: JSM
Chief creative officer: Joel Simon
Executive producer: Jeff Fiorello
Arrangers: Joel Simon, Nathan Kil
Producer: Norm Felker