A lesson in how to Fuse with Pride
Taking allyship one step past a flag, an agency alters their logo for Pride Month.
It's June in Toronto, so naturally rainbows are everywhere during Pride Month, but one agency is balking at the corporatization of the LGBTQ+ community choosing instead to alter their logo to infuse a message of inclusivity.
The importance of a safe space, both in the office and within oneself, is the message behind the new logo, said Steve Miller, executive creative director and VP of Fuse Marketing Group, in a statement emailed to Stimulant. "So during Pride Month, we've changed our logo to communicate that Fuse is just that; a 'SAFE' place for anyone to feel accepted and to let their individuality shine," Miller said. The company also held a Pride kick-off party and a timeline of important dates in LGBTQ+ history in Toronto is on display in their office this month.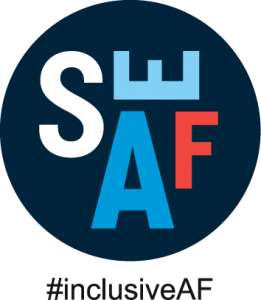 Points to Fuse for going a step beyond throwing a flag outside their door this month, but what about the other 11 months of the year?
In the agency's signature shades of blue, white and coral, the block lettering in four different sizes, facing two different directions – that usually spells out FUSE – instead reads SAFE in a navy-hued circle and underneath that it reads, "#inclusiveAF".
Taking a nod from social media lingo and using it to brand your allyship is a risky play. More than 72% of the LGBTQ+ community feels their representation in advertising is tokenized, according to Marketing Week. Fuse president Stephen Brown recently wrote about his very personal perspective as a gay man and an ad exec for our sister site, strategy.
During Pride season, rainbow banners and profits may go up, but that doesn't necessarily mean representation does. Can an agency truly connect with the vulnerable community it proposes to carve out a safe space for, such as for the ones who need it most like LGBTQ+ people of colour with little disposable income? If so, that's a year-round effort and not just something put forth when the sun shines bright enough to reflect a rainbow's colours in June.