Shawn Mendes x Flow ad gently sells boxed water
Like a slow-moving stream, the Canadian crooner very calmly winds his way to making a pitch for the eco brand.
So many Flow Alkaline Spring Water messages are flowing towards me these days I feel I'm drowning in boxed-water marketing.
On a recent trip to High Park in Toronto I looked up to see a giant billboard promoting the boxed water brand with a beatific Gwyneth Paltrow (main image) looking down on me. Of course she is, right? Then, last night at Whole Foods Market there was a pretty pyramid of Flow's new flavoured options near the vegan meat section. I soon went down a seemingly endless well of Flow content, from our sister site's interview with the founder and CEO to a deep dive of its very pretty website.
But the drip, drip, drip of boxed water messaging turned into a roar (or, more accurately, a gentle monotone) in its new "Shawn Mendes x Flow" ad. The 38-second version on YouTube features the young singer waxing poetic in an exceedingly calm voice about how flow is about a "state of mind" and being "at one with yourself" while showing off his lithe limbs.
The video posted in July has gotten more than 2,000 thumbs up and several comments, most expressing ecstatic love for the Canadian crooner. I could find only one hater in the sea of lovey-dovey comments: "People, its  normal water with add[ed] vitamin."
Even with the marketing river constantly lapping at my shores I agree with the dissenter (even if spelling and grammar are not their strong points) , Flow is just water in a really pretty package with even prettier pitch-people.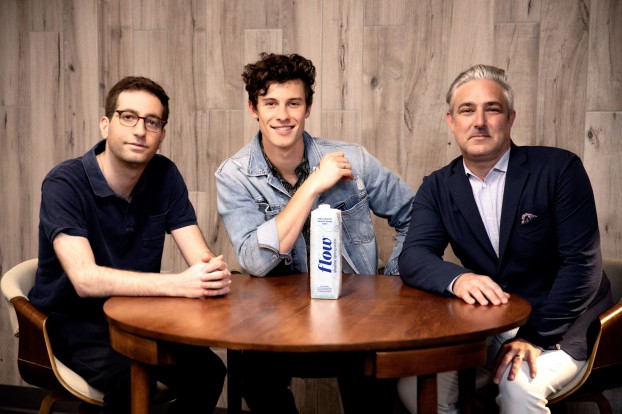 Alas, my skepticism over boxed alkaline water will not turn the tide as the power of Gwynnie and Shawn (pictured middle, flanked by his manager on the left, and Flow's CEO and founder, right) to convince many Canadians to ditch passé plastic water bottles for uber-trendy cardboard water boxes is all but certain.
Tap water drunk out of a reusable cup or bottle is, IMHO, more environmentally friendly and likely just as healthy as Flow (not to mention cheaper), but I doubt that argument will be heard above all the Shawn Mendes fans clutching their white-and-blue branded bottles to their chests squealing in excitement as he hits those high notes this summer. Do you?
Credits
Advertiser: Flow Alkaline Spring Water