These balloons aren't of your birthday party variety
A non-profit unleashes a horde of mysterious objects warning against the dangers of secondhand smoke.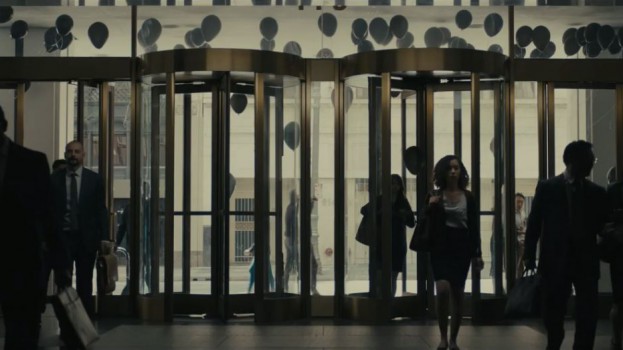 In the video, they invade like mysterious creatures in the early scenes of a horror flick.
Dark, almost smokey, they drift throughout every space within the city, clinging to the safety of overhangs, musty hallways, and backseat windows. Those who notice them, including a mother standing with her children in a bus shelter, have the good sense to stay away. Others appear oblivious that the sinister objects, and the dangers they represent, loom over every shoulder.
That's how the metaphor unfolds in a new dream-like PSA from the California Tobacco Control Program (CTCP). Sure, the dark globs may look and act (and, who knows, even pop) like regular balloons. But these ones aren't the kind you find at a party. They're a stand-in for the risks associated with secondhand smoke, in all its forms.
According to the CTCP, secondhand smoke from vaping products, marijuana, cigarillos and hookah are just as toxic and harmful to children as that of cigarettes, and exposure to them are continuing to rise in the Golden State, even as many people are butting out their cigarettes for good.
Using balloons, which tend to conjure up flashbacks of Sheryl from accounts payable's retirement party or grandma's 98th birthday, agency Duncan Channon demonstrates the risks of secondhand smoke without resorting to blowing literal smoke in people's faces. As the website Muse points out, the balloons had the secondary effect, as many Stephen King fans think of the red ones used in an Instagram stunt for IT: Chapter II.
Now go on the balloon-popping spree you always dreamed of.
Credits
Client: CTCP
Media and communication: Valerie Quinn
PR manager: Franl Ruiz
Senior financial analyst: Amelia Anderson
Advertising specialist: Cortney Ceccato
Agency: Duncan Channon
Executive creative director: Anne Elisco-Lemme
Senior art director: Adam Zash
Senior copywriter: Andy Whalen
Senior producer: Rita Ribera Channon
Production company: The Corner Shop
Director: Sara Dunlop
Executive producer: Anna Hashmi
Head of production: Jessica Miller
Producer: Greg Haggart
D.O.P: Michael Gioulakis
Production designer: Brock Houghton
VFX: The Mill
Executive producer: Fawn Fletcher
VFX supervisor, 2D lead: Adam Lambert
Art director: Clarise Chin
Coordinator: Vanessa Yee