CAA educates people about those 'chargey thingys'
123w helped create a public awareness campaign in plain (albeit cheeky) language to demystify electric vehicles.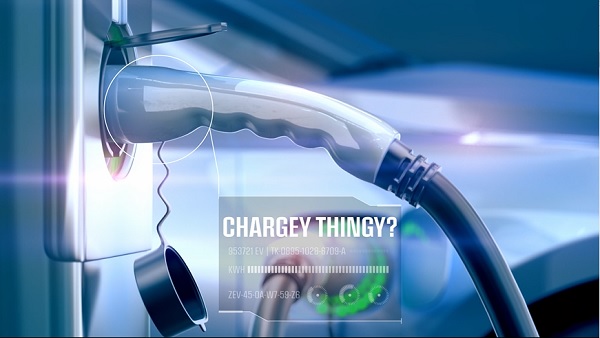 Physicist and Nobel Laureate Richard Feynman famously said "I think I can safely say that nobody understands quantum mechanics."
Electric vehicles (EVs) are something not many people understand either, at least according to the Canadian Automobile Association (CAA). But it's looking to change that with a national public awareness campaign to pique people's interest in zero emission vehicles and help allay concerns about EV batteries and affordability.
While technological advances have been considerable (and yes, quantum mechanics and computing is at the heart of the vehicles' development too), Canadians' abilities to grasp concepts like range and charging station accessibility hasn't followed suit.
Instead of using fancy jargon to explain how things work, agency partner One Twenty Three West landed on a campaign that's based on what people are actually thinking/questioning, like "What's the chargey thingy?" The creative shows real people (not that engineers aren't real people) describing the inner workings of EVs in relatable language.
"Electric vehicles can be complicated. We wanted to find a way to demystify them that doesn't overwhelm people," according to Ian Jack, VP, public affairs at CAA National. Jack says the brand is building on its public advocacy work, so Canadians can make informed decisions about EVs.
The campaign is running across Canada on social media, driving traffic to the CAA sustainability website.
Seven in 10 Canadians plan on buying an electric vehicle (either pure or hybrid) within the next decade. The Government of Canada has also set targets for zero emission vehicle sales: 30% of light duty vehicle sales by 2030 as part of efforts to "decarbonize" the transportation sector.