Golf Town wants its podcast to put golfers to sleep
Created with Union, the episode uses the peaceful sounds of the game to help customers sleep (and play) better.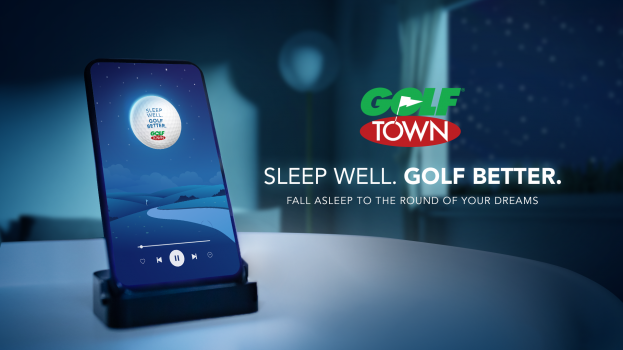 Golf Town is using its namesake sport to bring everyone's sleep up to par.
The retailer has drawn on techniques demonstrated in popular "sleep hypnosis" and meditation videos, harnessing the calming sounds of the game to develop a podcast that it says will help lull listeners into a deeper and more restful sleep – which, ultimately, can help improve their golf game.
"It's well-known that golf is a relaxing sport," says Lance Martin, CCO of Union, which led creative on the project. "When we realized how much of that can be attributed to the sounds of the game, we knew we could do something interesting in the audio space."
The 40-minute podcast, available on Spotify, Apple Music and Google Podcasts, features a narrator describing someone's dream golf outing, beginning at the first hole, alternating between descriptions of the landscape and strategy for how to play the hole, with the sounds of nature and the twack of a tee shot.
The podcast builds upon Golf Town's "Come Out and Play" campaign, which launched at the start of the summer and urged Canadians to get back out on the course. The podcast, meanwhile, is designed to help those same Canadians get a better night's sleep so they can excel on it.
"Whether you're an experienced golfer or only played a couple of times, we want listeners to picture themselves playing great golf and wake up confident they can achieve their goals – in life, and on the course," said Martin.
Audio production for the podcast was handled by TA2 Sound + Music.