HelloFresh has some bad news for raccoons
Posters in urban areas are an "apology" for the meal kit service's track record in reducing food waste.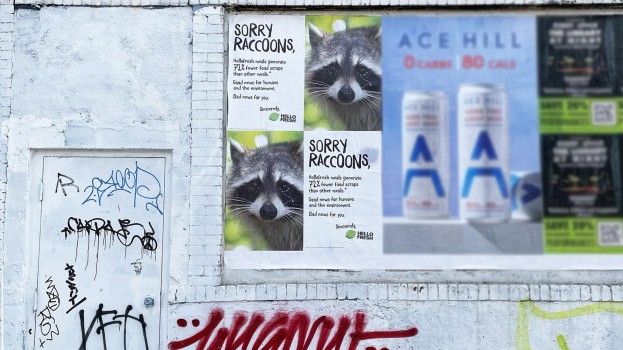 Meal kit service HelloFresh has a message for Canada's raccoon population: "Sorry, Not Sorry."
The tough love stems from global data presented by the service, in partnership with Germany's Wuppertal Institute for Climate, Environment and Energy, which shows that HelloFresh customers waste 21% less food compared to those cooking a conventional dinner. That's good news for Canadian consumers and the environment, but bad news for dumpster-diving raccoon populations who thrive on food scraps.
"On behalf of all of us at HelloFresh, I want to express my sincerest apologies to Canada's raccoon population," said Ian Brooks, CEO and founder of HelloFresh Canada, in a statement yesterday. "We understand that our more sustainable meal solutions deepen the challenges they face on a daily basis, but at the end of the day, we simply had to make the choice that's right for the planet."
But perhaps knowing that raccoons might not have access to the news wires, the meal kit service's apologetic message is being delivered in places the animals are more likely to see it: OOH posters in alleyways and other popular raccoon haunts.
The new campaign is part of broader messaging from the meal kit service about its green credentials and food waste reduction efforts. According to the aforementioned study, HelloFresh meals generate 29% fewer greenhouse gas emissions than conventional meals. That tracks with University of Michigan findings that meal kits generally produce one-third lower emissions than store-bought meals.
The campaign strategy was developed by Craft Public Relations, while KC Media handed PR and Conflict handled graphic design.