Real travel doesn't look this dumb
Emirates pokes fun at how ridiculous one looks in a VR headset to get you out into the real world.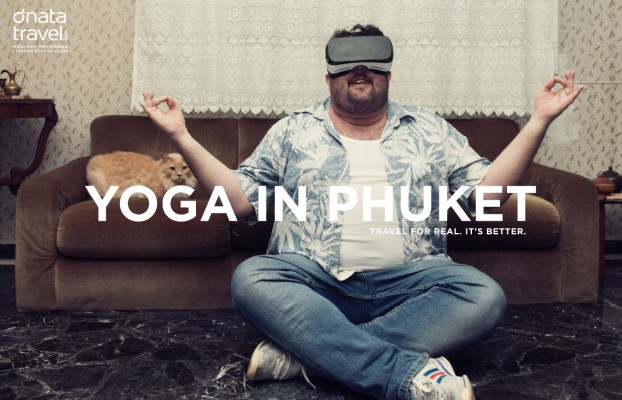 I have a video on my phone of a mate knocking a lamp clear off a table and across the room in his basement. It's not that he was bothered by the light source — he was just trying to be a shit disturber in the virtual world and throw a coffee cup out of a moving car door.
It's VR blunders such as the one above, as well as the imbecilic facial expressions and odd hand actions that Emirates' Dnata Travel is making fun of (rightfully so) in its latest ad campaign by TBWA\RAAD Dubai. The creative begs us to wonder if VR will ever not make a person look stupid, as men are shown doing elaborate yoga moves, surfing on beds and dancing in the kitchen instead of visiting some exotic country, in real life.
The point the brand is trying to make is that "nothing could ever beat the feeling of actually being there" as it battles with the idea that VR worlds could potentially replace real-world travel one day. We say nay to the prediction and make our own deduction that the only thing to surely replace traditional travel would be a teleporter. Now that's something to get in a tizzy about.
Credits:
Client: Emirates Group
Product: Dnata Travel
Agency: TBWA\RAAD Dubai
CCO: Walid Kanaan
ECD: Fouad Abdel Malak
CD: Manuel Bordé
Creative Team: Gabriel Gama, Guilherme Grossi, Oswaldo Sa
Head of Art: Claudio Campisto
Head of Accounts: Joe Laham
Account Team: Monisha Mirchindani, Heba Younes
Production House: Good People
Director: Ali Ali
DOP: Pierre Mouarkech
Editor: Amr Rabee
Executive Producer: Michel Abou Zeid
Grading: Karim Mira
Sound Design: Hosny Ali
Online: Lizard, Cairo