Would you die for a Whopper?
Burger King's new ad makes light of trading freedom (and, it would seem, your life) for one of the iconic burgers.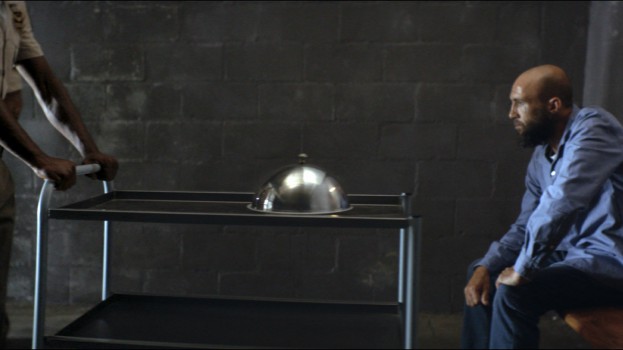 How good is a Burger King Whopper?
Uh, apparently it's good enough to die for. Oh, and release a serial killer (or someone along those lines) out into society without a second thought.
You might be thinking, "Uh, what?" Yeah, trust us, so were we. The new digital and TV spot for Burger King France depicts a death row inmate (cheery!) requesting a Whopper combo for his last meal. The guard is so taken by the sight of the Whopper that he makes a swift trade — his freedom (and presumably, life) for the meal. The convict is seen driving off, probably to go find a Burger King drive-through, because what else would you do with your newfound freedom?
We don't exactly remember seeing this episode of Orange is the New Black before.
Anyway, we just want to go on the record stating that we think the guard may have gotten the short end of the stick.
(If you're into that kinda stuff, this photo series on famous inmates' last meals is pretty much the most unsettling food photography you've ever seen).
Credits
Brand: Burger King France
Marketing director: Béatrice Roux
Marketing project manager: Marine Dupas
Agency: Buzzman
President and executive creative director: Georges Mohammed-Chérif
VP: Thomas Granger
MD: Julien Levilain
Creative directors: Jean-Christophe Rover, Tristand Daltroff, Louis Audard
Artistic director: Louis Audard
Copywriter: Tristan Daltroff
Assistant artistic director: Edouard Jacquelin
Account director: Pierre Guengant
Account manager: Loïc Coelho
Account executive: Clémence Gateau
Account executive assistant: Antoine Boizeau
Strategic planning: Clément Scherrer
Head of social media: Julien Scaglione
Social media managers: Marie Le Scao, Elise Lassimoulie
Head of PR and communication: Amélie Juillet
PR and communication assistants: Suzanne Langlai, Victoire Fouquet-Lapar
Rights management: Dee Perryman
Head of TV production: Vanessa Barbel
TV production: Benoit Crouet
Production: Wanda
Sound production: Schmooze
Music supervisor: Circonflex
Director: Ivan Grbovic
Producer: Claude Fayolle
Post producer: Olivier Glandais