Go duck yourself
A spot for Disneyland Paris takes viewers through the highs and lows of a duckling's obsession with Donald Duck.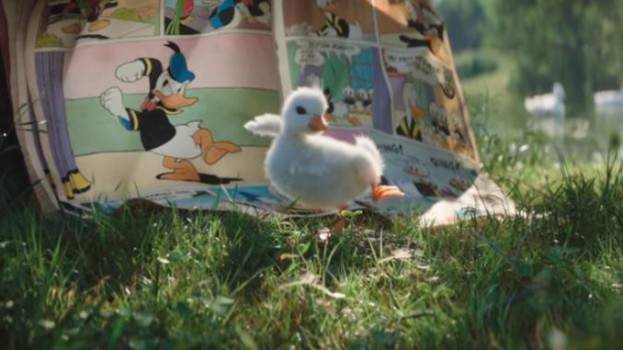 An "epic saga" blending "humour and courage" is not typically how you would expect to hear a Disney spot described. But a new brand film for Disneyland Paris aims to tell such an epic and magical tale.
For the launch of its new brand signature, "Where Magic Gets Real," the European Disney resort worked with Paris-based BETC on a campaign celebrating kids' love of Disney (and parents' secret eternal love for a pantsless, anthropomorphic white duck named Donald Duck).
Once upon a time, the story goes, there was a little white duckling who fell upon a Disney magazine and became enthralled by the billed cartoon character on its cover. "The days and the seasons pass, and the little duck lives Donald Duck, breathes Donald Duck, dreams of Donald Duck," the agency writes in a press release, describing the work. "The magazine becomes his most prized possession."
The ending is as heartwarming as the duckling's initial obsession with Donald Duck is, in my honest opinion, a little creepy. As winter arrives and the his family begins their migration, the duck faces the tear-jerking realization that the magazine is simply too heavy to bring along for the ride.
But it story doesn't end there.
Turns out the flock is headed for Disneyland Paris, where our hero gets to meet his childish dream in the flesh and feathers.
Parents: Is there anything more magical than that?
Client: Disneyland Paris
Agency: BETC
Brand managers: Grégoire Champetier, Cynthia Oostdijck, André Delvallée, Nathalie Raverat, Sébastien Dupont
Agency managers: Anne-Laure Brunner, Marion Gondeau, Pauline Mezzadri
ECD: Antoinette Beatson
Creative director: Christophe Clapier
Art director: Julien Lefèvre
Assistant art director: Clément Chayé
Copywriter: Alban Gallée
Strategic planning: Antoine Pivard
Post-production supervisor: Alexandra Houillon
Production company: General Pop
Sound production: GUM Production
3D Studio/director: Unit Images