Lil Nas X and Elton John exchange looks for Uber Eats
The meal delivery company enlisted the musicians to promote its restaurant and grocery services.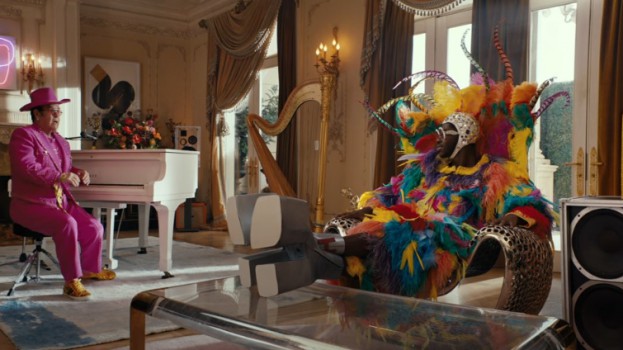 Lil Nas X and Elton John look amazing in a new spot from Uber Eats.
At least, that's according to the musicians themselves – as they eye their counterpart sporting one of the other's iconic outfits. In the spot, the rapper dons John's colourful Crocodile Rock feather costume, while the singer-songwriter dresses up in Nas' pink cowboy outfit.
Along with trading praise for their looks, the duo discuss the orders they've placed on the Uber Eats app.
The spot, created by U.S. agency Special Group and running globally, is one of four to make up the latest installment of the food delivery service's "Tonight, I'll Be Eating" campaign. Another of the four spots for the first time highlights grocery delivery, a new inclusion to Uber Eats.
This is not the first time that Uber Eats has brought in celebrities to promote its service. Previous iterations of the "Tonight, I'll Be Eating" platform have featured their own celebrity duos, from Sir Patrick Stewart and Mark Hamill arguing about how to pronounce "tomato" to Jonathan Van Ness attempting to outdo Simone Biles in gymnastics.
In Canada, a Quebec-specific spot created by Mosaic aired during this year's NHL playoffs – in which the Montreal Canadiens made a run to the finals – that reunited former Habs goalie Patrick Roy with coach Mario Tremblay, who had a much-publicized blowout, to recreate the game that sparked their falling out via table hockey.
That spot aimed to emphasize the service's efforts to promote local restaurants, for which the service has waived or reduced fees of over $22 million while also providing grants to support them and and hospitality workers generally.