Grow up, drive a Benz
Mercedes targets the next generation of drivers in a new global campaign.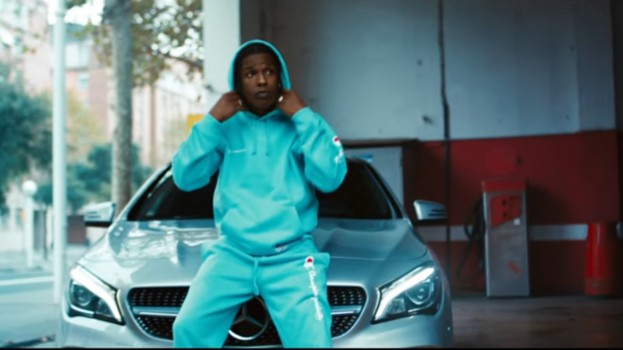 German luxury car brand Mercedes-Benz is taking aim at Generations Y and Z in a new campaign, and it doesn't appear to be sparing any expense in its pursuit.
The videos by Swedish director Gustav Johansson feel more like a Terrence Malick film than a car ad, with their wistful voice-overs and tone. Anchored by an anthem spot running on TV, the campaign revolves around five online videos, roughly two to five minutes long. Each takes on a component of growing up.
In "Get a job," for example, rapper A$AP Rocky narrates his coming of age in Harlem. In "Be a good parent," a father tries to reconnect with his son after finally realizing how unhappy he is in his job and his life. It's not light fare, and contains lines one wouldn't expect in advertising. For example: "Do you remember that time when we first hooked up? We played rock, paper scissors for shots of mezcal?" Or:  "You know, whenever shit got rough, this beat was always there."
It's all in the name of ageing down. A press release says "the campaign focuses on people caught between the coolness of adolescence and the squareness of adulthood who embody the attitude to life of the new compacts." The vehicle for that transition? A Mercedes, of course.
The anthem ad launched last week and serves as a trailer for the five ads, which will live in the digital world, helped along with a digital hub and through a partnership with Vice.
Credits:
Creative agency: antoni GmbH
Chief Creative Officer, Founder: André Kemper
Managing Partner, Founder: Dr. Tonio Kröger
Executive Creative Director: Matthias Schmidt, Martin Pross
Creative Director: Veit Moeller
Art Director: Sol Oh
Writer: Sebastian Lyman
Executive Producer: Mark Róta
Creative Director Digital: Thomas Heinz, Veit Moeller
Head of Digital Design: Nuno Marcelino
Production: Iconoclast Germany GmbH
Managing Director: Nils Schwemer, Nicolas Lhermitte
Director: Gustav Johansson
Executive Producer: Jan Dressler
Line Producer: Tim Augustin, Björn Krüger
Director of Photography: Niklas Johansson
Online/Web Special: Pixelpark AG
Project Manager: Maximilian Burkert