Holy smokes, is that billboard hacking butts?
The Young Pope lands in Brazil with some dramatic OOH.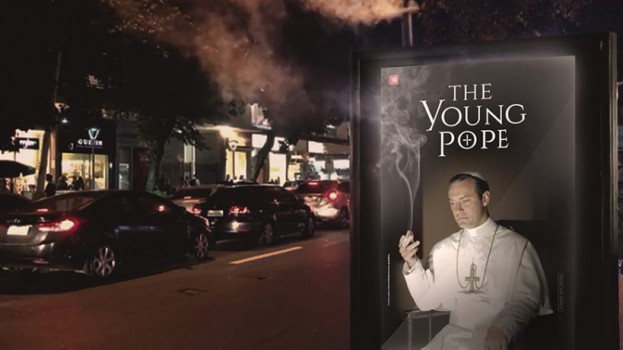 Earlier this year in Stockholm, Sweden, a billboard coughed when someone smoking a cigarette got too close. The ad for pharmacy chain Apotek Hjartat, by agency Akestam Holst, built smoke detectors into the digital display, triggering the video to change from a still photo of a man to the same man coughing. It then advertised products to help smokers quit.
Now, in Brazil, the billboard is doing the smoking. To promote HBO's The Young Pope, debuting on Fox, agency Z+ made use of a bus stop ad located near a chimney. It creates the signal for a new pope's election: white smoke emanating from the Sistine Chapel to spread the news. But it also highlights what's unique about HBO's Pope. From a certain angle, the smoke appears to be coming from the cigarette Jude Law's character is smoking.
Via Adweek
CREDITS
Client: Fox Channels
Agency: Z+ Brazil
Title: The Young Pope
Product: The Young Pope
VP of Creative: Fernando Rodrigues
Executive Creative Director: Alexandre Vilela (Xã)
Creative Directors: Alessandra Muccillo e André Mancini
Creatives: Paula Dias, Guilherme Azevedo e Gabriel Lima
Project Manager: Rafael Coelho e Felipe Mabuti
Accounts Manager: Guilherme Alonso, Thiago Barboza e Thais Carbonell
Planners: Daniel Rios e João Guerra
Client Approval: Sergio Domanico e Danilo Campos
Graphics Production: Z+ – Claudio Gome e Carlos Vieira
Art Buyer: Alice Sueko
Technology Producer: BIZSYS
Technology: Fábio Palma e Filipe Palma
Producers: Rodrigo Cassino e Fábio Alves
Vehicle: Clear Channel