Spotify makes its resolutions for 2018
The streaming service once again used data to craft a quirky message in Canada and beyond.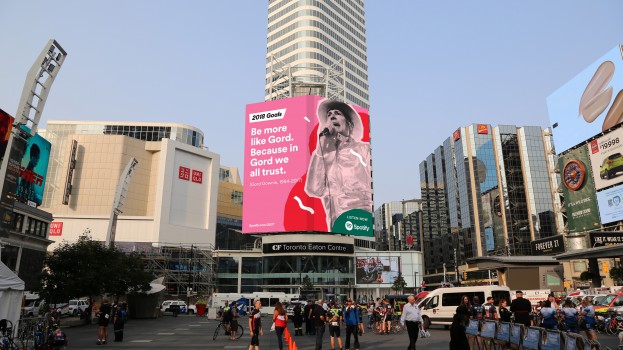 Spotify is no stranger to flaunting its user data in advertising campaigns. Its past campaigns have teased listeners with stats on what their most-streamed songs are, which playlists get the most action and who's listening to the most Justin Bieber.
This year, it's incorporating some of the biggest trends in listening into New Years Resolutions. While the campaign is global, it's tailoring the creative for each market it's launching in, including Canada. So while it capped off 2016 with a "year in review"-style campaign, this year's work is a "year in preview."
Canadian resolutions include: "Work on 'The Shape of You' until at least Jan. 31st," referencing the Ed Sheeran track that's been streamed more than three million times in Toronto alone; "Be more like Gord," a memorial to the beloved Tragically Hip frontman; and "Be proud of Canadaland. Luckily our U.S. neighbours make it easy," promoting Jesse Brown's popular podcast (Spotify's most-streamed news podcast in Canada).
In addition to the OOH campaign, life-size cutouts (or analog social media filters) of trending artists like Cardi B and Bruno Mars will be placed in unexpected locations in New York, L.A. and Miami throughout December, prompting some social media fun. Digital advertising will also extend to the New York Times, Snapchat, Tinder and more.
OOH ads will begin to roll out this week. The campaign was developed and executed in-house by Spotify's brand and creative team.