Amstel combats toxic masculinity in new Russian beer commercial
Hey man, hold my beer!
A new campaign for Heineken's Amstel beer in Russia shine a light on positive male relationships.
Created by Amsterdam-based agency 180 Kingsday, "Hold My Beer" is set in a European village where a quick trip to the loo ends up being a years-long exercise in friendship.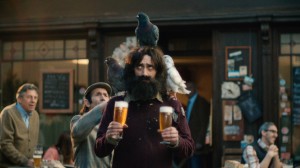 The 50-second commercial shows exactly how far one man will go to mind his friend's frothy Amstel. But he doesn't do it alone – his fellow male villagers are there to help him stay dry, eat, read, and even watch the football game. Score!
The premise emerged in response to the recent global focus on toxic masculinity, a term frequently used to describe the negative affects that traditional male roles can have on generations of men and, in turn, the rest of society.
Credits
Client: Amstel Beer
Agency:  180 Kingsday