I have felines for you
And BBDO Moscow called it kitty love...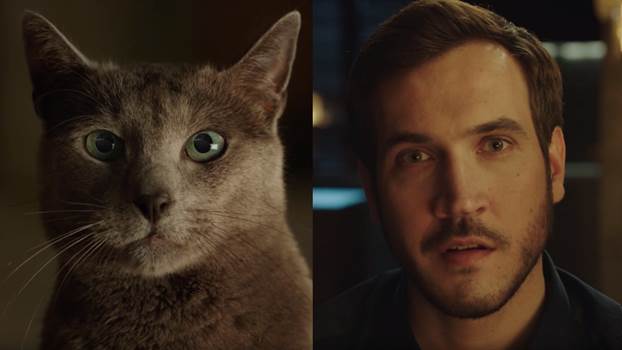 Pets make your life beautiful. They provide companionship, comfort, fun and sweetness, often when you need it the most.
They're also amazingly adept at killing the moment.
Such is the case for the beautiful grey feline in this spot for Russian pet food manufacturer Sheba. Tell us, what's a more unwelcome sound when you're about to snuggle up and enjoy a romantic Valentine's moment with your sweetheart: a baby crying, or a "fur baby" softly announcing its presence? The latter just might be true, considering the cat's interruption is played scarier than any entry by Michael Myers, Frederic Krueger or Rebecca Gayheart (who we all know is the killer in the 1998 slasher Urban Legend?) could ever be.
Never fear, it's just a cat, with innocent green eyes and plucky little whiskers. Except the cat does seem to exert a strange degree of control. Who would have thought something so terrifying comes in such a tiny, innocent package?
Fortunately, this human seems to love his four-legged companion just as much as he loves his two-legged one. He breaks the tender moment to deliver the tender chicken to his little buddy, and all seems well. BBDO Moscow's spot perfectly captured the intense influence power that cats possess over humans – and how scary they can be when they don't get their way.
The "heartwarming" message at the end? "Resistance is futile." Whatever you say, pretty kitty!
Credits
Client: Mars Russia
Marketing director: Olga Kostrova
Senior brand manager: Anna Kulagina
Leadership management trainee: Ksenia Somova
Media and digital head: Natalya Mikhaylova
Digital communications: Alina Ogorodova
Agency: BBDO Moscow
Managing director: Natalya Tsyganova
ECD: Alexey Fedorov
Creative group head: Alena Ivanova
Digital art director: Anna Kuzicheva
Junior art director: Albert Gizatullin
Web designer: Yulia Belyakova
Digital strategic director: Polina Ignatieva
Senior strategic planner: Julia Chmyr
Junior strategic planner: Irina Ni
Head of TV production: Irina Noruzi
Producer: Mery Asatiani
Music producer: Pavel Filippenko
Business director: Anastasiya Dubrovskaya
Account director: Katrin Auashria
Senior account manager: Varvara Sidorova