Harry Rosen helps dads keep up with fashion
For Father's Day, Zulu Alpha Kilo turned a shirt into a green screen, helping dads change styles in an instant during Zoom calls.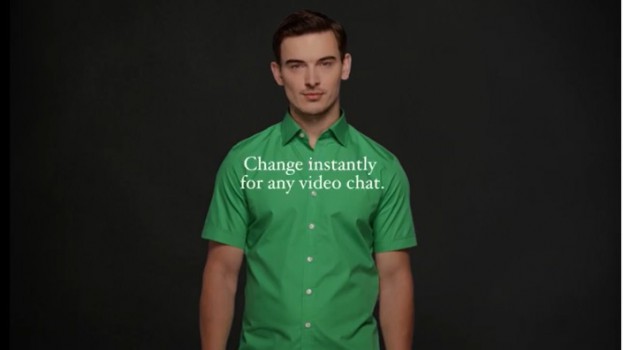 Green screens are the stuff of weather reports and movie sets, but increasingly, of our at-home video calls, with people using them to more easily change their backgrounds and spice up the monotony of another day of virtual meetings and family calls.
Harry Rosen, the 67-year-old purveyor of fine men's wear, can't be accused of not changing with times. It has launched a clothing innovation for the kind of guy who wants to stay stylish but might otherwise struggle to keep up with the times.
Yes, we are talking about dads.
The menswear brand's "Green Screen Shirt" is a simple cotton button down offering that is the same specific shade of green that offers multiple video chat possibilities. By hitting the green screen checkbox on Zoom and then choosing a pattern, wearers can alter a shirt's design within seconds, as it uses green screen functionality already built in to Zoom and many other video call platforms.
The shirt is the focal point of a Father's Day giveaway on the retailer's Instagram, and followers can like, comment or tag two friends in the post for a chance to win.
Though they can use whatever image they like, dads who receive the shirt will also be given a variety of exclusive Harry Rosen designs in both regular and animated patterns to use. They range from classic colours for the workplace, to more flashy patterns for more casual calls.
Developed by agency partner Zulu Alpha Kilo, the shirt is the latest in the "Set the Tone" platform. Launched last year, the campaign focuses on helping guys feel confident and "being their best self" through their fashion. The same message was applied when the menswear retailer expanded into men's grooming.
Harry Rosen handled the media buy for the campaign internally, which includes supporting content on social.

Credits
Client: Harry Rosen
Agency: Zulu Alpha Kilo
Chief Creative Officer: Zak Mroueh
Executive Creative Director: Wain Choi
Art Director: Anton Garneau, Michael Romaniuk
Writer: Luke McNeil, Marco Buchar
Account Team: Michael Brathwaite
Clients: Trinh Tham, Kristin Meier, Paul Michel
Producer: Christine Toranco
Production House: Zulubot
Executive Producer/Technical Advisor: Adam Palmer
Editor/Colourist: Filipe Chaparro
Photographer/Videographer: Kyle Wilson, Matt Watkins
Creative Director Harry Rosen: Christine Kwan
Photo Retoucher: Jim Tinios