SingleCut brews up a celebration of the guitar
The brewer's latest design from Zulu Alpha Kilo pulls double-duty as a music lesson.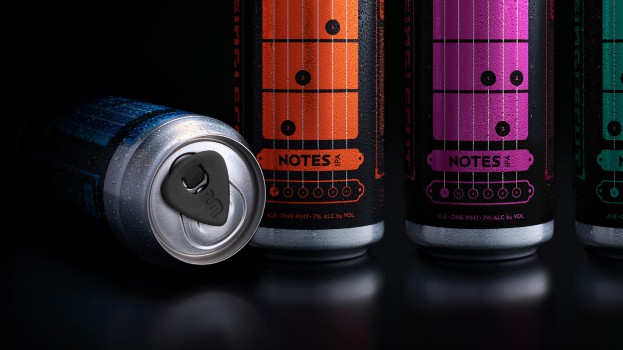 If it wasn't obvious enough by its name, SingleCut Beersmiths is a big fan of the guitar – and the packaging and user experience of their latest beer leans in heavily on that fact.
With a campaign and concept developed by Toronto creative agency Zulu Alpha Kilo, Notes IPA is a clear celebration of the instrument, giving people a bit of a music lesson each time they grab a can.
A four-pack of the beer features four distinct labels that display each of the guitar's foundational chords, teaching people the proper finger positions for each. Meanwhile, the pull tabs on the cans include custom-made guitar picks that can be popped off and used to play the guitar.
The theme is carried through in a digital extension unlocked through a Snapchat code on each of the Notes IPA labels. That code leads to an AR guitar lesson which allows the user to hear how a basic chord should sound, see how the fretboard should be gripped to play the chord, and create original music through the app.
"Notes IPA is the purest distillation of what the SingleCut brand is all about: craft beer and rock 'n' roll," explains Zak Mroueh, founder and CCO of Zulu Alpha Kilo. "Even if you've never touched a guitar before or you're one of the all-time greats, this beer speaks to the guitar hero in all of us."
A previous Zulu campaign for SingleCut also used QR codes to reach music fans, with can designs pulling double-duty as clues for a popular song, which could be scanned to reveal the answer.