KFC is freaking out for Halloween
The QSR is changing its tagline and releasing glow-in-the-dark buckets for a surprisingly popular night for takeout.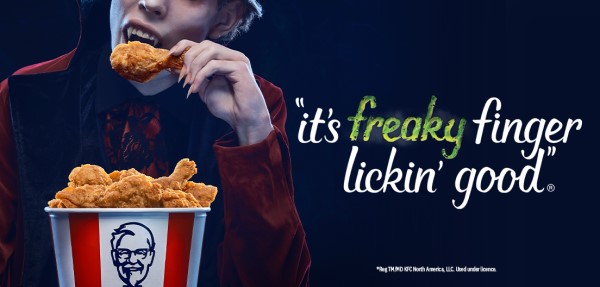 In 2020 KFC made its tagline a dirty word, when licking your fingers wasn't the best idea during a global pandemic. Now, it's playing around with its iconic slogan again, this time for Halloween.
By tweaking its tagline to "It's Freaky Finger Lickin' Good," the QSR says it's making a push to claim a top spot on what is actually one of the biggest food-ordering nights of the year, with creative featuring a creature of the night sinking his fangs into a chicken wing. Running until Oct. 31, spooky-inspired creative features not just vampires, but also witches and mummies, all indulging in KFC hand-breaded Original Recipe chicken.
KFC's campaign can be seen across owned social platforms (see, below) and DOOH.
In addition, KFC is also rolling out social giveaway contest for custom KFC glow-in-the-dark buckets. In a re-imagining of the brand's iconic bucket, KFC created reusable glow-in-the-dark buckets, perfect for trick-or-treating.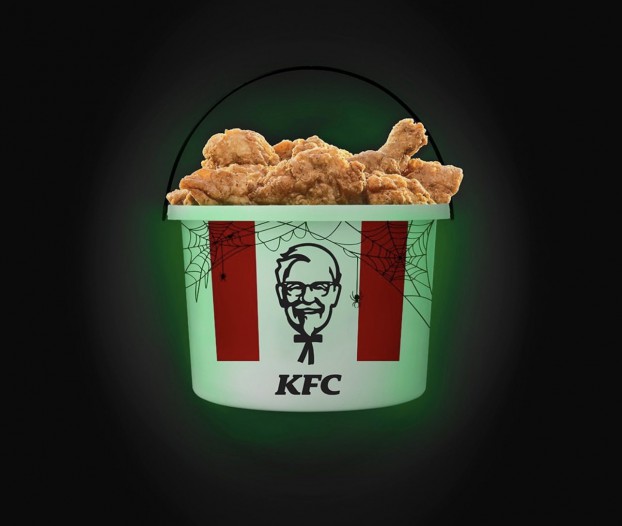 "We've leveraged two of KFC's strongest assets – our classic tagline and iconic bucket – to take over this season's spookiest night of the year," says Azim Ahktar, KFC Canada's director of marketing. "Halloween's hottest accessory is the trick-or-treating bucket, so it was only natural we transform our world-famous bucket into a glowing, gothic, must-have moment for KFC fans across the country."
Narrative led the campaign, with assistance on the media side from Wavemaker.
The brand has had a lot of fun around Halloween across different geographies. For example, in Australia in 2019, with help from Ogilvy, the QSR delivered special Halloween menu items via "Cursed Colonels," zombiefied versions of company founder Colonel Harland David Sanders.
In the Philippines the same year, and again supported by Ogilvy, the QSR dressed its signature gravy as "Bloody Gravy" for Halloween.
In the U.K., it teased customers on social media with a fake Halloween burger complete with oversized hot pepper and black bun.
Credits
Client: KFC Canada
Chief Marketing Officer: Katherine Bond-Debicki
Director, Marketing: Azim Akhtar
Brand Communications Manager: Laura Mallozzi
Creative, PR and influencer lead agency: Narrative
Chief Creative Officer: Joseph Bonnici
Creative Director: David Mueller
Associate Creative Director: Ana Segurajauregui
Senior Producer: Caroline Clarke
Managing Director: Cathy Mitchell
Account Director: Sheri Clish
Vice President: Lauren Baswick
Editor: Jamie Kaiser
Online: Jamie Kaiser
Audio: Jamie Kaiser
Media Agency: Wavemaker
Production Company: Fuze Reps
Photographer: Chris Robinson
Motion Director: Chris Robinson
Executive Producer: Nicole Gomez
Motion Camera Op: Hugh Read
Camera Assistant: Adam Coish
Food Stylist: Adele Shaw
SFX Makeup: Karlee Morse
Wardrobe Stylist: Jillian Vieira