You are getting very, very sleepy…
Memac Ogilvy Dubai's print ad for IKEA is going to lull to you sleep, but that doesn't mean it's boring.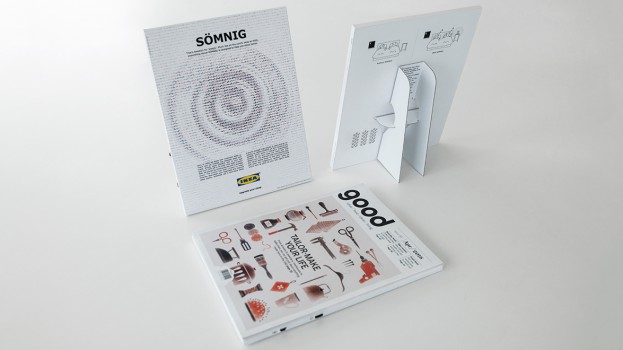 Print advertising is not dead. IKEA has already proven that. Just a few months ago, the furniture retailer used one of its print ads as a pregnancy test, offering a discount to anyone whose urine test revealed that they were expecting.
Well, it's done it again. IKEA's latest print ad by Memac Ogilvy Dubai is designed to help you sleep better, and it's created a multi-sensory experience to do so.
First is the visual: the ad displays a circular pattern, made up of a mosaic of different IKEA beds and frames to create a soothing and symmetrical vortex to help you relax and feel ready to lay your head down.
Next is the scent. The ad is printed with lavender ink and emits a subtle, soothing scent (lavender is known for its calming effects).
Finally, there's sound. The ad (which is found on the back of the UAE's Good magazine) can be charged by USB. When it's at full power, it emits white noise to aid in sleep.
Frankly, don't be surprised if the entire Stimulant team gets one of these for their desks. You see, we're a little over-Stimulated.
Credits
Client: IKEA
Agency: Memac Ogilvy Dubai
Group head: Gary Rolf
Creative team: Tarek Shawki, Ami Popat, Mahmoud Hasan
Production: Tarek Bawab, Pierre Alkhoury, Ryan Gonsalves, Muhammad Umair, Aliza Siddiqi, Inshad Usman, Craig Fawcett, Mark Cruzem