How to practice safe sets
The design team at Cossette created a safety guide for production so not a single stone is left unturned.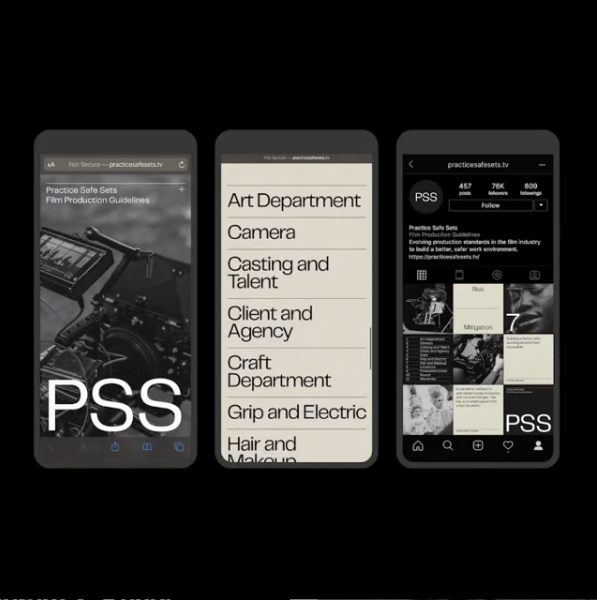 Even for the safest among us, it can be hard to get through every step of the day without slipping up. But those little risks can be amplified into big ones when surrounded by co-workers – like when you are on the set of a commercial production, which have restarted across Canada after several months of being locked down.
Practice Safe Sets is a group looking to help ensure the resumption of shoots doesn't come at the cost of the crew's safety. The main way it is doing that is through an online platform that makes sure not a single detail goes overlooked.
Created by the design team at Cossette – and freely available to anyone who wants to use it – the list is extensive and mobile-friendly, offering a methodical database of potential production set risks and ways to mitigate them.
The guide tracks every single department through every step of the production process, from the brief and preparation stages all the way to wrap and equipment returns. Several of the situations are those that one might not realize social distancing could be hard to maintain until they get there, like spending time in busy stores to find wardrobe and props, having to stop at gas stations during travel or the risk of running into a crowd during location scouting.
Some of the solutions are obvious, due to what has become standard in our day-to-day work lives, like doing pitches and auditions virtually or having clients and agencies view shoots remotely. But others get a bit more creative, such as using actors from the same family or non-actor "real" families when interplay on-screen is necessary and there is no way they can be kept six feet apart. And then there are the ones that will simply take some time to plan logistically, like ensuring there will be no need for sharing equipment, or delivering food and having designated dining areas to avoid multiple people handling the same food.
While roughly 80% of tasks are largely similar from shoot to shoot, 20% is usually unique to a specific production and can't be covered by a standardized checklist, so the site also provides some general guidelines to ensure these tasks can still be done safely.
The site also lays out some of the vital roles for client and agencies – namely, having protocol needs included in the bid, setting expectations regarding costs of safety measures and setting contingency plans in the event someone does get sick.