HSBC makes a giant mural about sustainability
Working with artist Jacquie Comrie, the public art naturally cools the building it was painted on and decreases pollutants.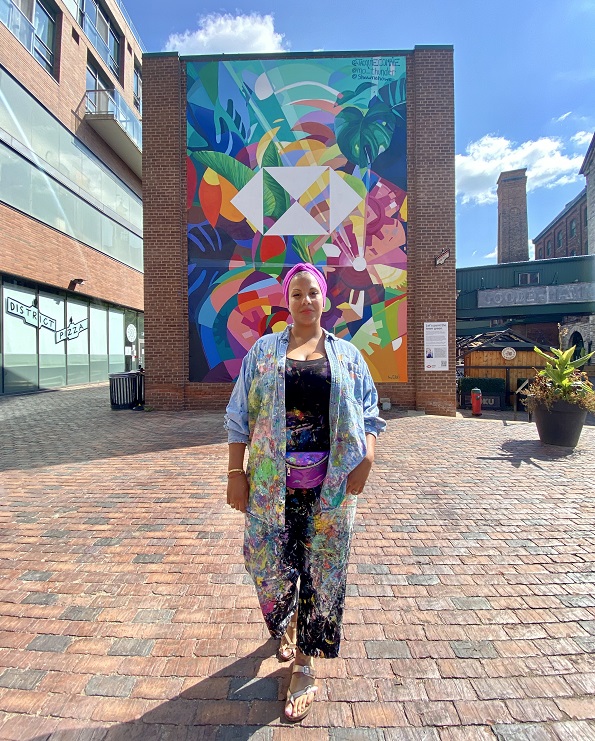 HSBC and artist Jacquie Comrie are unveiling a giant mural in Toronto's Distillery District, available for public viewing for the next six weeks.
"Heal" is a public mural created using LumActiv technology, a non-toxic coating that helps naturally cool buildings and decrease indoor and outdoor surface contaminants and airborne pollutants.
For the project, HSBC commissioned Toronto multidisciplinary artist Comrie, who uses "colour as a medium of social impact and mental health," which she says is "proven to possess healing properties and the ability to change our thoughts, behaviour and the way we feel for the better."
Comrie and HSBC's goal with the collaboration is to raise awareness and create a space for people to have a shared experience, which will affect personal, community and business regeneration.
Recently, the bank outlined its net carbon zero objectives, and the mural is a move to celebrate HSBC's commitment to a sustainable future and becoming carbon-neutral by 2030 or sooner. In October, HSBC group executive Noel Quinn described these goals as "a material step up in our support for customers as we collectively work towards building a thriving low-carbon economy."
Yesterday, HSBC's Canadian CEO Linda Seymour told Bloomberg the institution has already introduced loans and commercial mortgages with environmental components, and is currently working on a "green deposits" product.
In July, HSBC announced that it was selected by the Government of Canada's Department of Finance as one of two structuring advisors for its inaugural issuance of green bonds, selected, along with TD Securities, to advise on the design of Canada's green bond framework, assist in the development of the on-going program, and support a successful inaugural issuance.
Credits
Client: HSBC
Creative Agency: SMAK
PR:EGPR