The best ads of Bye-bye 2021
Radio-Canada's New Year sketch show draws a batch of new creative ideas along with its big ratings. Here are the ads viewers voted as their favourites.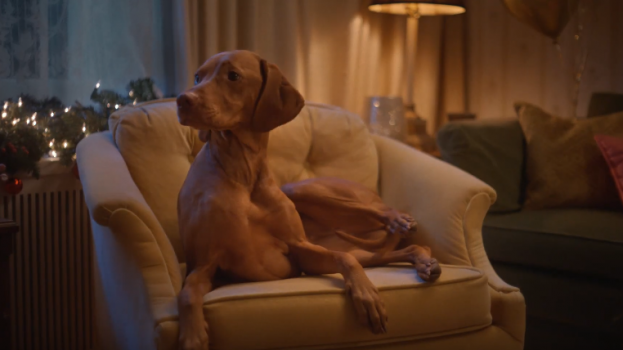 Bye-bye has become one of the most reliable ratings draws of the year, with the annual New Year's Eve sketch show special routinely ranking as the most-watched show in Quebec and putting up numbers that rival any of the major events broadcast in English.
And when you begin to approach Canadian Super Bowl-like numbers, you're bound to get Super Bowl-like advertiser interest, which is why brands will often make fresh ads to air during the show. And for the last four years, Radio-Canada has run Bye-bye de la pub, a contest in which the public can vote for their favourite ad, getting a chance at a prize for themselves and free media space for the three most popular advertisers.
This year, 18 spots from international, national and local advertisers were created for the broadcast, which ended up drawing 4.862 million viewers. The results of voting were announced today, and we've gathered the winners below. This year, over 92,400 votes were cast, which Radio-Canada says is nearly double from last year.
First place

Advertiser: Mondu
Agency: Lg2
Pet retailer Mondu might have people saying "mon dieu!" if they were in the scene played out their ad. A dog, having just been seen vigorously cleaning its nether-regions with its tounge, rushes to the door to give an equally enthusiastic greeting to a family members paying a holiday visit, leaving the host to rely on a pandemic-safe gesture to avoid getting a facefull of second-hand dog junk.
Mondu
Director, Marketing, E-Commerce and Digital strategy: Roxane Lalonde
Marketing manager: Vicky Duguay
Creative: Marc Mc Innis
Content marketing: Marc-Antoine Legault
Lg2
Creative director: Geneviève Langlois
Creative: Luc Dupéré, Étienne Goulet
Council: Julie Bergeron, Jeanase Thermil, Sarah-Maude Raymond
Producer: Lina Piché
Director: Franie-Éléonore Bernier
Producer / production: Nova Film / Alexis Dubosc
Media: Jungle – Julie Laplante, Mylène Bellefeuille
Second place
Advertiser: Les Producteurs de lait du Québec
Agency: Lg2
The Quebec Dairy Producer's new year greeting relies on a simple tactic: cute kids. But despite feeling like the last two years have aged us all, the ad reminds us of something: we are all cuties on the inside.
Advertiser (Les Producteurs de lait du Québec): Julie Gélinas, Sara Bujold Creative Vice-president: François Sauvé
Creative: Guillaume Bergeron, Marc Guilbault
Strategy VP: Sophie-Annick Vallée
Strategic Planning: Philippe Goudreault
Council VP: Marie-Christine Cayer
Council: Carl Milette, Andréa Fortin, Justine Trudeau, Karine Payette
Agency producer: Valérie Lapointe
Director: Jean-François Asselin
Producer: Cinélande / Sophie Gérard
Photo Director: Steve Danyluk
Post-production: Post430 / Eric Bolduc
Editing: Simon Sauvé / Olivier Binette
Media: Touché! — Martin Soubeyran, Gabrielle Côté, Simon Wautier,Caroline-Lu Hayot, Manndy Lachance, Margot Jacquemet, Yosr Bouchaala
Third place
Advertiser: Metro
Agency: Cossette
Even when we are trying to do our best for the ones we love, it can come with a lot of frustrations that might make some feel unappreciated or stuck in a frustrating situation. Metro and its network of stores and pharmacies, be it helping you stock up on needed bathroom supplies, deal with a cleanup in a store aisle or deliver something you forgot when you are in a car with fussy babies.
Creative: Anne-Claude Chénier, Geneviève Duquette, Philippe Brassard, Philippe Leblanc, Vicky Morin, Dominique Audet
Content: Olivier Charbonneau, Chloé Simard
Agency producer (Septième): Stéphanie Côté, Émilie Meunier
Media: Touché! – Martin Soubeyran, Maxime Mourot, Andréanne Veilleux, Vanessa Whalen
Production: Les Enfants
Director: Maxime Giroux
Post-production: MELS
Audio: Circonflex