Saintly Wine taps artists for another merch drop
The Arterra brand is tickled pink by the success of a product line that first debuted at the beginning of the summer.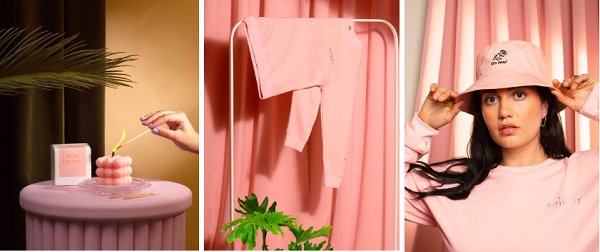 Saintly claims to be "more than wine" and this is certainly the case (no pun intended, especially if that's your format-of-choice for purchasing vino) with the brand having lauched yet another new line of merchandise.
The Saintly Collective debuted at the end of June and since it's unveiling, the Arterra wine has done sinfully well, with social following up 125% and a hard-to-believe 100% positive sentiment. It's also since generated a bunch of beautiful user-generated content.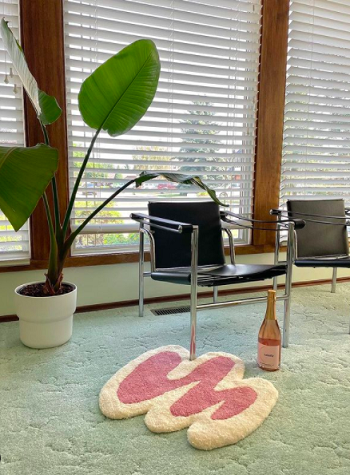 The Saintly Collective is now unveiling its third merch drop in time for fall, a limited-edition exclusive collaboration with Rashelle Campbell, an Alberta-based multidisciplinary artist who designed a wine splash rug (pictured, right) that consumers can purchase through the Saintly website, along with the core collection (above) that includes a crewneck, bubble candle and an "It's rose" bucket hat as part of an exclusive collab with Toronto custom clothing designer, Natalya Amres (@remixedbytal).
The decision to bring the merch line to market came after Saintly's 2020 debut, which it says exceeded launch year volume by 122%. Saintly also claims that it saw the strongest awareness to trail conversion (73%) of any VQA brand.
The campaign images were shot by Dani Reynolds and used for the web relaunch to showcase Saintly as a modern brand consumer choice for rose in 2021.
The brand is using paid and organic social, as well as influencers to drive to the Saintly website where the merch can be purchased. And fans can find out about merch drops through teasers on Instagram.
The agencies behind the Saintly Collective program are Bensimon Byrne, which handled creative development and execution, Golin for public relations, and PHD for paid media.