Tim Hortons doubles down on Double Doubles
To recognize a once-in-a-lifetime date, the QSR is giving out big rewards for anyone who spots other "twos" in the world.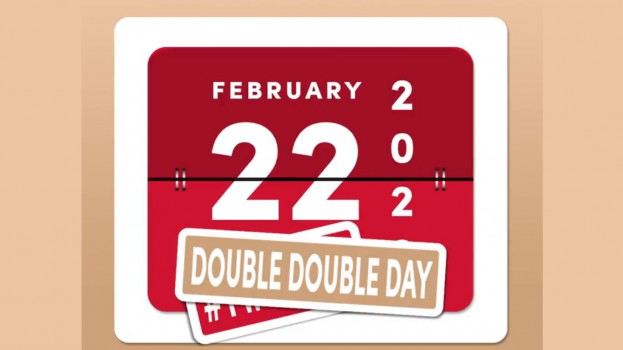 While it lacks the cultural cachet of 420 for stoners or May the 4th for Star Wars fans, Tim Hortons is hoping that today – 2/22/22 – is unique enough an occurrence to get people just as excited.
The QSR is recognizing the unique sequence of numbers – a series of 2s falling on a Tuesday, with some calling it "Twosday" – as something to take note of, given how it has popularized the "double double" as a coffee order.
To mark the occasion, Tims is giving away 22 prizes of 222 Double Double coffees. Contest entrants can take part via Twitter and Instagram by spotting and sharing an image or video of anything related to Tims and the concept of "two" or "double."
It began hyping the contest on social media last week, including by sharing examples of what it means by finding the number two in the world, be it picking up two coffees on your Tims run, the cost of an order coming out to $2 or the number on the back of a Timbits hockey jersey.
In 2021, Tims celebrated Canadians' fondness for the Double Double with the Double Double Collection, including hoodies, sweatpants, t-shirts and travel mugs with a crème coffee colour scheme.
The well-known coffee order has made its way into other products and campaigns too: for example in 2019, Tim Hortons announced it would be launching a double double chocolate bar, a snack made from its coffee and further foray into retail. As the official coffee of the CFL, it's also offered up surprise and delight contesting around "Double Double Weekends."
For this campaign, Gut Toronto led creative and production of this campaign, and Craft Public Relations is managing PR.
Tims is hoping that "Double Double Day" will continue its success with digital-first contests and efforts play on the QSR's role in Canadian culture. Last week, parent Restaurant Brands International (RBI) reported a quarterly revenue boost, in part aided by deeper digital engagement, something Tims has been trying to drum up with the latest iteration of its Roll Up campaign. But CEO Jose Cil also pointed to the success of "Timbiebs" for the results, as the limited-time Timbit flavours – born from Justin Bieber's love of Timbits, as the campaign claimed – spurred high demand for the donut itself in addition to a related merch line.