Uncategorized
Colonel Sanders learns French
KFC France introduces the man behind the famous face.
Protecting from a noxious killer
"The Silent Killer" PSA strikes back at carbon monoxide.
The next-gen selfie?
A London Lego store is allowing visitors to create the ultimate in customizable building sets.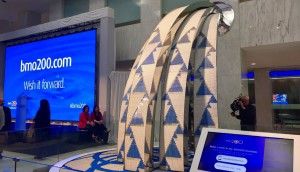 BMO's fountain is 200 years in the making
To celebrate its bicentennial, the brand is granting wishes.
Keurig makes things simple
The brewer is getting cheeky in a campaign that disses the drip.
Why not take Via Rail?
A new fall campaign from the brand shows why taking a train to your destination is better than driving.
Speaking up through slam poetry
Global Citizen uses music to inspire action on health and poverty.
Multi-faced
Finally, the ability to project robotic features on your face.
Avant garde no more
Fashionistas peek inside each other's closets on MOS.