Canada Post unveils its doggie designs
In advance of the Lunar New Year, stamps will be adorned with adorable pups designed by Subplot Design.
Some like milk hot
Kellogg's found a "Hot-Milk Man" ambassador who's not too bad on the eyes.
The Penthouse censors itself
The Vancouver adult entertainment venue's new brand identity shows viewers just enough for them to get the idea.
KFC gets a 'bit' creative
The fast food company traded its $20 bucket for Bitcoins (for a limited time).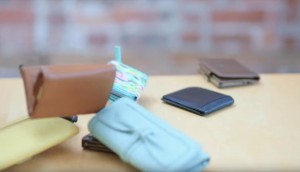 The Lost Wallet project
Atlantic Credit Unions left full wallets in public to see if Canadians are as trustworthy as hoped.
Sid Lee goes all Canadian for Olympic House
Maple leaf-shaped stands? A room filled with Canadian landscapes? It's all set for PyeongChang 2018.
Trains have their benefits, too
Via Rail asks Canadians to imagine themselves liberated from winter's traffic and road conditions.
The empowering side of money
These Wealthsimple ads remind us that dealing with finances can be as empowering as it is stressful.
Canadian Tire skates for advertising gold
The spirit of the Games is clear in a new campaign spot released ahead of the Olympics.
Kids explain programmatic
Index Exchange pulled in pint-sized brand ambassadors to explain how digital advertising works.