Mark Burgess
Reclaiming the desert landscape
American artist Jennifer Bolande takes on highway blight by occupying the billboards.
Calling all designers
There's a new category in Strategy's Agency of the Year competition, with intent to submit due May 15.
Grow up, drive a Benz
Mercedes targets the next generation of drivers in a new global campaign.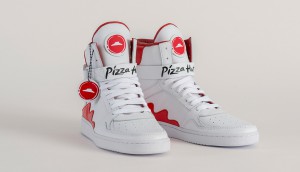 Put your feet up, wait for your pie
During this March Madness, your limited-edition basketball kicks can order from Pizza Hut.
It's a little late for the ice bucket challenge
TBWA\Raad in Lebanon promotes an internet service by showing what happens when you miss out on viral videos.
A sign of GIF maturity
Giphy makes use of its platform to teach American Sign Language.
George Saunders in virtual reality
The New York Times produced a VR companion piece to the author's debut novel.