Mark Burgess
A tool for designers in a rut
The MIT Media Lab created a Mad Libs-style game to provide instant design inspiration.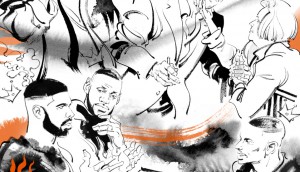 A living mural for TIFF
Bensimon Byrne, OneMethod and Narrative document the fest with artist Kagan McLeod.
The smoothest ride
Glenmorangie and Renovo make a bicycle from whisky casks.
Nufferton offers pyjamas for dreaming
The Swedish brand makes a music video about jilted lovers and sleepwalkers.
Free hoodies (if you can scale this cliff)
Clothing brand 37.5 Technology hosted "the world's most remote pop-up shop."
Marriage Valley and other tales by robots
This is what you get when artificial intelligence pens romance novels.
The luckiest bags of chips
Tostitos invites NFL fans to share their team's pre-game superstitions.